Visual Marketing for Auto Dealers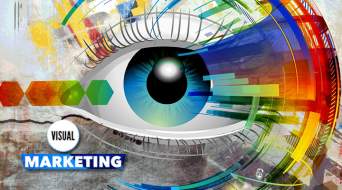 Visual marketing is a method of visual communications and the means of a brand's visual identification. It helps a brand deliver the desired semantic, rational and emotional messages to the targeted audience. Logos, the style, website, catalogs, reports, etc. are essential components of your corporate visual marketing. In other words, visual marketing is all of the things that the targeted audience can see and read, and based on this can form the entire image of your brand.
A consistent and effective strategy applied to visual marketing allows a brand to deliver its mission statement and uniqueness to its audience. A rational approach to this kind of marketing contributes to the formation and increase of customers' loyalty, trust and confidence in your brand. So how can dealerships use visual marketing for their websites and online business?
Visual marketing makes your dealer website more enticing for your site visitors and more successful for you. For this you will need such tools as images, video/animation, infographics, and presentations. To make them work for your benefit you should use different graphical applications and programs, so the following products will come in handy:
Visual Editors. Such editors will allow you to create high quality images just like professional designers' acieve. Most of these programs have a comfortable "drag-and-drop" interface and built-in tool sets, so the processing of images won't require much time or special skills. Autoxloo's Etch-A-Word module is an excellent example of how you can manage different visual effects like frames, text, logos, stickers, shapes, etc. without any painful effort.
Layout Software. Applications and services designed for making layouts will help you create customized images without any special techniques required from professional editors. Our Make-A-Page 2.0 technology makes it easy to work with layouts, to provide changes in your design, widgets, and content.
Infographics Services. Infographics is a very inventive media format. It attracts users first of all with the way it organizes and presents the content. By using different services for infographics solutions the process of creating such images will become simple and exciting. Lots of these programs have various sets of templates and possibilities to create graphs, charts and diagrams.
Meme Resources. No matter whether you like memes or not, they work. According to your customer's persona, you can use memes for both social networks and blogs. They are easy to create, so it can generally take you a couple of minutes.
GIF Generators. GIF images have recently become incredibly popular due to their entertaining content. You can also use such animations to replace full-fledged video clips. Besides, GIF images are lightweight, they do not overburden the website and save space on the hard drive. By using GIF generator services you can convert a YouTube video clip into GIF-animation. They can also allow you to capture video right from the screen of your monitor and convert it into animation immediately. It is very convenient when creating step-by-step instructions and manuals.
Typography Tools. Graphical presentations of quotes are a popular content format in social media. Typography tools offer you libraries of high-quality images in which you put your own text. Most of the brand images that you see in Instagram are made this way.
Image Resizing Tools. To display your graphic content on different social platforms you should take into account the features of each of them and adapt the parameters of your images to their requirements. Tools that resize images will allow you to do this task quickly and without much trouble. You just need to upload the image, specify its format and download the result.
Image Compression Tools. The webpage loading time has a big impact on the SEO promotion of your site. Graphics have always been one of the most resource-intensive types of content, so reducing the weight of media files is essential. Image compression tools allow you to reduce significantly the size of your images with a small loss of quality.
Icon Resources. Icons are always in demand. They are useful when it comes to the website design, and infographics creation. Icons are good for any content. They give it greater consistency and connectivity. Besides, they do not overemphasize themselves. Icon services offer huge libraries of colored icons made in a flat design. You can easily increase their sizes without losing quality.
Quiz Generators. Quizzes are good for your online business because they engage users to interact with your website. They are the same as a survey which allows you to learn more about your customers. Despite the fact that most quizzes are entertaining you can use them to analyze your targeted audience. Quiz generators empower you to create interactive quizzes of different formats like polls, questionnaires, photo quizzes, etc. and to share them in social networks. Autoxloo's Traffic Survey module provides a good opportunity to to create the survey you need and to get your customers' opinions and feedback about your work, inventory, services, staff, etc.
Video Editors. A video editor should be an essential part of your visual marketing strategy. Video content conquers the online world with large amounts of data, so the requirements for its quality can be damanding. Video editors give you the possibility to easily cut and paste video clips without losing their quality, put nifty filters and effects in the video, background audio, add subtitles and more. Our Vehicle Video tools allow you to make high quality video clips that can advertise and sell your vehicles the best way possible.
Autoxloo's software solutions enable you to concentrate and stay focused on your business, not on worrying how to improve it. Our products and services require minimal attention from a user. We have implemented all of the necessary editors, generators, programs and tools into our software to provide you with comfortable, effective and attractive media on your website. Our intelligent system will do all the work for you requiring just a few minutes of your time. So even unskilled users can manage their media resources and make visual marketing work effectively for them.