Etch-A-Word: What Is It for Dealers?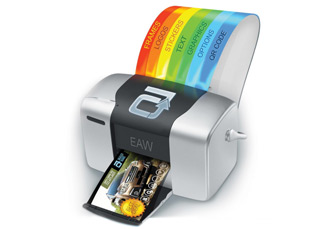 Today graphic materials are one of the most attractive and essential components of any webpage. They certainly affect the conversion rates. As users stay longer for good content, but even more than that they want it to be simple and comprehensible. Pictures deliver any kind of information better because 80% of what people see is saved in their memory. According to the statistics, 44% of respondents are attracted mainly by photos from well-known brands, 40% respond better to visual information than to a text. Infographics can increase the number of website visitors by 12%, the conversion can be increased by 86% after adding videos to the landing page. An average user reads only 20% of the text on the webpage, landings with built-in videos are quoted 40% more often.
With the help of Photoshop and Instagram's filters, photo effects and frames anyone can make their photos unique, fascinating and selling. So Visual Marketing should become a priority in your dealership's online strategy. The belief that high-quality visual content is created only with a big budget, incredible artistic talent and skills is false, and moreover, it prevents you from improving your dealer website.
Autoxloo offers you our Etch-A-Word module that allows to customize your vehicle images according to your preferences. You can quickly and easily add different forms and shapes, logos and frames to your photos without any professional skills and graphic editors. Moreover, you can save all the changes you applied as a template and use it later to the other vehicles. It's very convenient and saves a lot of time.
The Drag-And-Drop technology will allow you to spend just a few minutes on the photo processing and adjusting pictures to your business needs. The following features will help you deliver your message to the customers the best way:
Frames. Frames will give additional depth and volume to your photos as well as will additionally emphasize your car on the picture. Just drag a frame you like and drop it on the image.
Text. Text on the photos is a great opportunity to tell your customers once more about the benefits, options and important details. Choose the vehicle options from the list, drag and drop them on the image. For your comfort we included the dropdown menu with the list of all option categories applied to a vehicle and a quick search among the applied options. You can also make such changes in the text look as font, font color, size, etc.
Logos. A logo is the sign of your brand. Your vehicle images can be spread over the Internet. No matter where they appear the logo will link users to your website. Brand awareness and development is the main goal you will achieve with logo usage. Besides, you will protect your pictures from illegal usage. Drag and drop a logo on the image. You can adjust your logo the way you want.
Shapes/Arrows. Many studies show that the use of arrows and shapes that point to some elements, is a good incentive and call-to-action for customers. Use these elements on your photos. For this option you have a possibility to change the element's color by selecting it from the Shape Properties table.
Stickers. Stickers on your vehicle pictures will help you distribute the information about your special offers, discounts, bonuses and other gifts to a bigger number of users. You have a possibility to adjust the size of your sticker and to apply a price to it. You just need to enter the price in the Sticker Properties field and to push the Apply button.
Custom Pictures. You can easily attach custom pictures to your car photos to compare different models, makes, separate parts, etc. Just upload the images from your computer. All the pictures in the list will be visible for all vehicles on your website.
QR Code Widget. QR code is a quick access to the information about your car. Customers can immediately get such data as reference information, photo and video materials, price, technical details, etc.
Autoxloo delivers the best solutions for auto dealers. Our Etch-A-Word module will help your photos get an effective and recognizable "face". You have a great possibility to optimize the conversion of your website with unique and useful graphics.