SEO vs. Aggregation Portal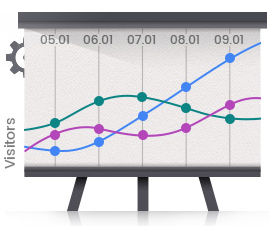 Which Is Better For Your Dealership?
Nowadays an effective car business activity is unreal without the Internet advertising and positioning. The efforts of the last make any dealership break into, stamp itself to potential customers and occupy a preferred niche on the market for a long time. Any dealer can most effectively promote its inventory and services on the web via professional and widely advertised website. This, in turn, leads to a permanent increase of the active customer database, and therefore to the car sales. Today Internet community offers SEO and aggregation site possibilities for car dealers to sell their vehicles. But which option to choose? Which is the most effective, low cost and profitable? So SEO versus an aggregation portal, which is stronger?
Traffic
SEO provides you with a continuous and targeted traffic which can convert. Every day millions of searchers around the world surf the net to buy a vehicle. SEO gives an access for these searchers to your website. It is the best, free and ever-lasting traffic for your inventory. At first you work hard and then for a while you can do nothing to attract new buyers. Besides, users who enter a search query actually look for a solution, so your website visitors are targeted users. SEO can convert a searcher into a shopper as visiting your website he/she has some intent and actively looks for what you offer.
An aggregator brings you traffic as far as you send your vehicle data feed to the third party websites. Your visibility will increase at once but when you stop pushing your inventory to the aggregation sites it will evidently fall down.
Time
SEO takes time. It takes time to get started, to be effective, to get revenue, and to maintain. It requires efforts to get to the feet and to hold the balance. Moreover, return of investment is not to come soon. It's somewhere ahead. Many dealers give up on this stage.
An aggregator won't take you so much time to get leads and thus, sales. It's quick resulted. You just put the inventory online and here you go! Even on the day you start you can have views, bids and offers.
Payment and Fees
SEO and an aggregation port both are not free and demand continuous investments. The question is which is more profitable to invest? SEO is not cheap and it doesn't guarantee high rates in organic results clicking compared to ads. But its effect is long term and productive. You still have a chance to establish yourself on the first page ranking through your traffic volume, but not a payment.
An aggregation site is not a low cost either as it takes fees for your vehicle inventory positioning. It won't give you lasting results unless you cooperate with it for a long time.
Authority
SEO is an expert in the matters of authority. The right content gives you weight and makes you look like a vehicle guru. Online reviews also boost your rating, draw more buyers to your dealership and build a social proof. Statistically customers' feedbacks influence 90% of all purchase decisions and 10% of all Google ranking aspects.
An aggregator won't add you any authority. You are one of the many. Your clients might not remember your name. If someone buys your vehicle his/her memory about the deal may be that it was bought on Adesa auction rather than from Robinson's dealership.
Competition
SEO and an aggregation portal are both very competitive. SEO strives for high ranking, for the first positions in the search engine results. People have no time to surf through the never-ending search result list and usually click go to the first two or three items ignoring all the rest. So SEO will make you sweat on the way to the top chart.
An aggregator catalogues your vehicle in a line with similar vehicles from other dealers. You appear in the same shoes as all other sellers on the website and they can beat you on many factors. So you must be highly professional, witty, skilled and nuance knowing to take the blow.
Customer Activity
Buyers' tastes differ. Many prefer to purchase vehicles from SEO optimized websites because they think the vehicle quality, and service there are better. Though the prices are higher, too, because of site's good ranking, reputation, time, money and efforts spent, etc. Some people want to buy a vehicle in the neighborhood, but not to drive thousands of miles for a car or wait for it to be delivered.
Some customers like aggregation auctions. Cars there are cheaper, and if they are used cars they are functionally reliable, and good-conditioned. Buyers who use aggregation portals like them for their usability. Besides, there they can compare different items of the same parameters.
Conclusion
SEO and an aggregation site both have their own advantages and setbacks. SEO is usually used by big dealerships that made a name, gained a reputation, garnered clients, suppliers and developed their business. An aggregator is a good basis for smaller car dealers. Anyway, no matter which way you decide to go Autoxloo can help you with sending data feeds to the aggregation ports or making SEO optimization for your website.