Auction-On-Wheels: Fully-Mobile On-Site Auction
At Autoxloo, we constantly strive to improve and facilitate the car dealership business execution. During the last 15 years, we have been developing towards streamlining the process of buying and selling vehicles both online and in-lane. We have a team dedicated to designing dealer auction websites and online auction software to help dealers run their day-to-day operations and enable change and progress.
The auto remarketing industry has been yearning for reliable digital solutions that would be able to fill the gap between today's auto shoppers' expectations and dealers' offerings.One of such solutions is our revolutionary new on-site auction platform called Auction-On-Wheels that enables you to move the needle without moving your inventory.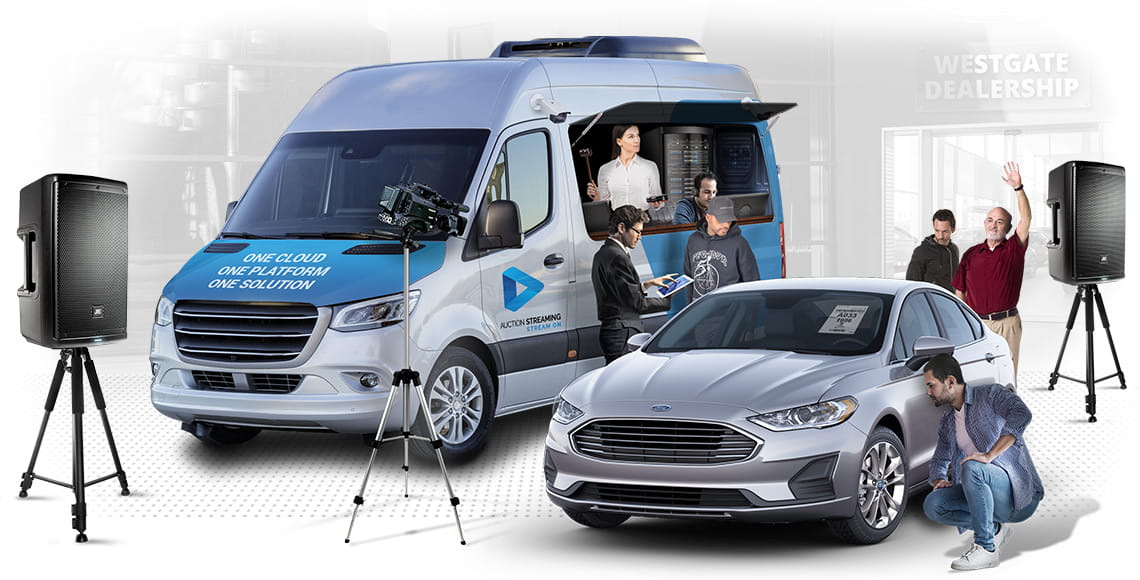 Auction-On-Wheels allows dealers and auto auctions to cooperate more effectively by running on-site auctions at any dealership or lot where the inventory is located to deliver better buyer experience and reduce the cost involved.
If your dealership sells vehicles or equipment that are hard to be moved to the auction location, Auction-On-Wheels online auction software will enable you to conduct a full-service sale at your premises.
Benefits of Auction on Wheels
Auction-On-Wheels mobile workstation bypasses the transportation expenses by bringing the sale to the dealership's doorstep. Using the savings, dealers can accept lower bids and reduce their buy/sell fees. It's a win-win for both a dealership and an auction as well as for buyers that now will be able to pay up as their fees are reduced.
No Relocation

With Auction-On-Wheels online auction software, the auction comes to you meaning you don't need to face the inconvenience and costs of 'trucking and packing'.

Local Bidders

If you have been in business for some time, you have already developed a local community around your dealership. These people are your primary audience that will crowd your lot on a sale day.

Online Bidders

With the addition of Auction-On-Wheels online auction software, you can advertise your event(s) on the Internet to attract remote bidders to your auction lanes.

Auctioneer Software

The Auctioneer Display Interface feature will allow your auctioneer to broadcast the live video feed via two rear tablet cameras while simultaneously interacting equally between the on-line and in-lane bidders via the front-facing camera maintaining the pace of the event.
Auction-On-Wheels is a real game-changer for dealers that sell agricultural equipment, tractors, combines, RVs and motorhomes, classic cars, and other vehicles that are better sold where they sit.
If your dealership is located in a remote region, we can conduct the online-only on-site auction sale for buyers from any state or country that are interested in what you sell but can't physically attend the event.
Autoxloo Dealer Management Systems and Auction Streaming CAMS-3TM AMS are comprised of over 46 innovative products and services developed to enable more productive collaboration between dealers and auto auctions worldwide that allows both parties to gain market share that would be otherwise unattainable.