Is Your Online Car Dealership Ready for Black Friday?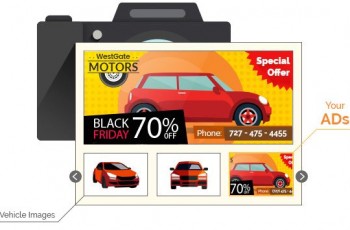 'Black Friday has become a much bigger part of the auto industry over the last several years', said Nissan's U.S. sales chief, Dan Mohnke.
This year the event falls on Friday, November 24th. To gain the maximum benefit from this occasion you should prepare your online dealership for the big day. Autoxloo have collected some tips to arm you with.
Start early

Customers are already looking for profitable deals on Black Friday online. Let them know about all the incentives your car dealership is planning to throw on the big sale day. According to the researches, when people are planning on buying a vehicle, they start looking for good deal approximately 3-4 weeks before the actual purchase will be committed. Black Friday is nearly upon us and it means, customers' attention is already focused on the online bargains.

Create the best customer experience online

When customers come to your dealership they are provided with the best service: you offer comfortable parking lot, you welcome them at the entrance with a big smile and an open posture, you introduce yourself and ask how can you refer to your customers and listen them carefully. You have to serve each of your clients as if he is the only one at the store – with all your attention, respect and patience.

If you want your customers to come back to your dealership website, their online shopping experience should mirror the in-store one. Intuitive navigation, user experience design, prompt live chat responses and high page speed – the key points to attain the superior online shopping experience.

Consider throwing leastwise one door buster sale

Customers, attracted to your dealership by shocking sale, will likely pay attention to other items you offer along the way.

Do the website performance testing

Is your online dealership ready to be highly loaded? Black Friday implies a huge boost of the traffic from different locations. Tons of visitors will send many simultaneous requests to go through your inventory, prices, search, vehicle details and contact forms – can your software handle it and serve online customers properly? To detect the vulnerabilities beforehand run the performance testing.

Reward loyal customers

Loyal customers should feel they are special for you. Holidays is the perfect time to show it. Offer your faithful clients an opportunity to access Black Friday sale earlier than regular ones. You can email them and invite to the event personally.

Create the video demonstration of your inventory

Videos are a very strong and efficient marketing tool. Especially when it comes to vehicles. Once customer sees the shiny, polished car, leather interior and hear the engine roaring, you are halfway there. Video demonstration highlights the best parts of the vehicle and create transparency. Create the video demonstration of the vehicles you want to be marketing for Black Friday and Cyber Monday. Autoxloo Live Video Streaming can facilitate this task for you.

Create the banners and change the header on your home page

The best way to promote Black Friday sales is to make it visible. You can change the theme and the header of your dealership website on the threshold of the event. Advertise your holiday sales by the colorful banners, specials, animation and backgrounds with Autoxloo Dealership Showcase Tools.

Also, you can build up the suspense by displaying the countdown timer.
If you have already taken care of all the abovementioned points, that's great! Just wait till the big day comes. But if you feel like there is some work to do – contact us. With Autoxloo this year's Black Friday will bring you a lot of profit and good deals.