Tips For Dealers On How To Prepare For Black Friday 2019
Black Friday sales have become a much bigger part of the automotive industry over the last several years. Car buyers are looking to get the best Black Friday deals creating an opportunity for your dealership to reach those month-end and year-end sales quotas and get more vehicles off your lot.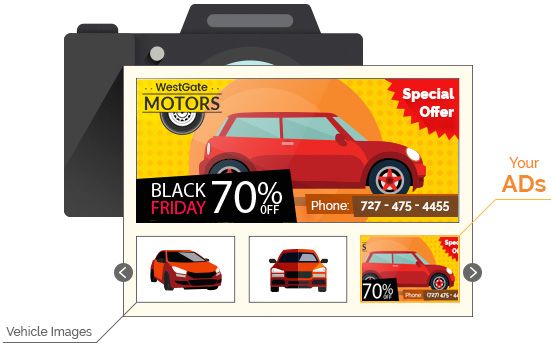 This year, the event falls on November 29th but when it comes to such a serious investment as buying a car, people start researching online weeks before the actual purchase date. By the time the Black Friday hits, car buyers will already know which dealership they are going to visit or from what lot they will have their vehicles delivered.
In order to utilize this opportunity to the fullest extent, focus more on optimizing your online showroom since it is the place where most of the auto shoppers will go prior to visiting your lot. Read on if you want to know how to prepare for Black Friday 2019.
Spruce Up Your Website

Make your Black Friday sales visible by changing the website color theme, creating banners and holiday-themed pop-ups. Create a sense of urgency by adding the countdown timer to your Black Friday offers.

Send an Email Campaign

Soon, if not already, your target audience's email boxes will be full of the car dealer Black Friday deals. Create mass email campaigns that will include the sneak peeks of your offers, early-bird sales, special gifts for loyal customers, or timely discounts. On the threshold of holiday sales, customers expect to get a lot of email offers to choose from, so don't hesitate to send them out.

Promote Your Deals

If your Black Friday bargains are worth being advertised, use Google Ads for automotive websites to attract more eyeballs and drive additional traffic from Google search.

Get Social Media Involved

If you have active business accounts on social media platforms, create holiday Facebook automotive ads campaigns to spread the news and inform more people about your impending sales. You can also run contests, sweepstakes, and giveaways for more engagement and to gather some additional info about your followers.

Test Your Speed

The load time and site speed are crucial for automotive websites as more than 60% of the auto shoppers say they would abandon a showroom if a vehicle details page takes more than 3 seconds to load. Test your website speed using Pingdom Website Speed Test or PageSpeed Insights to see how fast your platform runs on both desktops and mobile devices.

To prepare for Black Friday traffic, you can perform a stress testing for your website to emulate the load it will experience when many users simultaneously browse your offerings. This approach will help you to determine the maximum number of queries your servers can endure and get valuable insights into your website performance.

Match the Online Service With the Offline One

When prospective buyers come to your physical dealership, you are trying to delight them with the best customer service that includes complimentary refreshments, free parking and Wi-Fi access, children's playground, and your welcoming attitude. As one of the dedicated service approaches, you treat each visitor as if there is no one else on you lot at the moment.

This would be enough to sell out your inventory but with more than 75 percent of auto shoppers preferring to conduct the process online, it's crucial to add an Internet department to your store. Utilizing car dealer software to create a fully-featured online dealership will help you to make your online service just as good as the offline one.

Intuitive website navigation, mobile-friendliness, sufficient information on vehicle details pages, advanced search options, up-to-date inventory, user-friendly design, prompt live chat responses, and fast page loading are the key points to mimic the high level of service your dealership provides in-store.

Reward Loyal Customers

The Holiday season is a great time to express your appreciation for customers that have been with you for a long time. Offer your faithful clients an opportunity to access your car dealer Black Friday deals earlier than the new customers or surprise them with complimentary services like a vehicle check-up, an oil change, or car interior dry-cleaning.
If the question on how to prepare for Black Friday 2019 still stands for your dealership, you can count on our assistance during this Holiday season and years ahead. At Autoxloo we provide game-changing car dealer software coupled with dedicated services such as car dealer SEO, reputation management for car dealers, social media management, classified postings, and many others to help you gain a market share that would be unreachable otherwise.