Vehicle Inspection Report™: avoid the minefield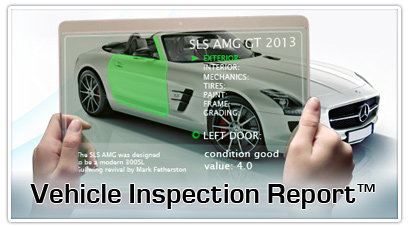 How can you increase the selling price on your inventory?
Reputable dealerships believe in disclosing the condition of their high quality vehicles in their inventory and get top dollars for it. They want to avoid negative feedback which will later damage their reputation. They expand their market by attracting buyers from other regions and states in making them feel safe with their purchase. Educating the buyer is an effective way to gain their confidence and set the bar higher for your competitors to follow. With AutoXloo's Vehicle Inspection Report (VIR™) dealerships can specify the condition of the vehicle and attach images and grading for each component on the car. Dealerships using the VIR™ system have shown an increase in sale price and gaining buyers from outside their local region. In addition they have significantly reduced their post sale complaints and arbitration claims with other dealerships.
Vehicle Inspection Report™ provides protection when selling, buying, and financing vehicles. VIR™ is easy to implement and has a full VIN decoding when auditing the vehicle to save the pertinent information about the vehicle and catalog multiple photographs with comments. VIR™ supports all areas of the vehicle such as exterior, interior, drive train, exhaust system, electronics and frame. By having transparency of information dealerships are gaining a customer for life.
With its extensive functionality the Vehicle Inspection Report™ module allows for easy data transfer to any online auction. Adesa, eBay, OVE or SmartAuction, are the most significant channels in moving your wholesale vehicles automatically and bypassing the wholesale brokers. VIR™ removes the guessing game and helps your vehicle sell faster and at a higher price. Join users who rely on VIR™ for their wholesale inventory needs. No need to transport vehicles to offsite auctions. Participating dealers will give you the same considerations when selling trade-ins to you. Put your vehicle in front of thousands of approved buyers and sellers with confidence. With VIR™ customers receive support to ensure every transaction goes smoothly.
Increase potential buyers' confidence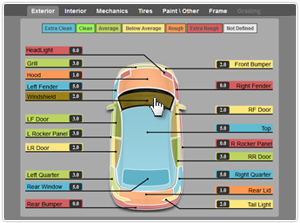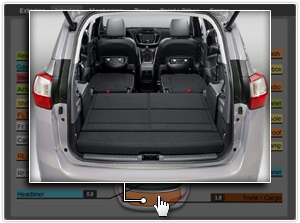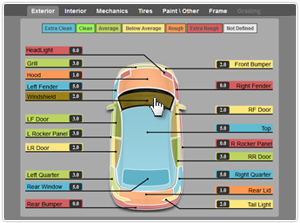 Vehicle Inspection Report™ is designed to take the grade your vehicle and establish confidence in your buyers, helping them make the decision to purchase more convenient. Within seconds they will see all the important facts which allows them to make an informed decision. Transparency is the key to selling a high quality vehicle.
Vehicle Inspection Report™ has following features
Scanning functionality. Scan and decode the year, make, model, trim etc
Multiple photos. Photos are attached directly to the report
Vehicle details and recovery information
Dashboard. The dashboard allows you to view and manage your report, enter auction information, print and email it.
Lets you control who can view, update and assign VIR™
Don't let customers rely on a mechanic down the street or their gut feel. Prove to them your vehicles are of the highest standard and quality. General inspections no longer suffice for the educated buyers.
Traditionally, these inspections have been done with pen and paper, often resulting in incomplete recording, reporting and tracking of vehicle conditions. Vehicle Inspection Report™ transforms the old, paper-based vehicle inspection process into a real-time data stream software that provides the storage, reporting and data distribution capabilities your customers need. Doing so builds credibility and trust. If customers need a copy of the VIR™ of a vehicle, they can look it up and easily printit. Dealerships have proven that the ROI is a "no brainer" because they are getting more buyers, selling at a higher price and gaining a positive reputation and credibility in their market.
The vehicles can be rated on a number of mechanical areas and itemized in the Vehicle Inspection Report™. Through this comprehensive rating system, customers are able to compare that score among similar vehicles. The report is categorized into different tabs so clients can easily browse critical areas including an overview, exterior and interior summary, photos and more. VIR™ is available on iPhone and Android platforms.
Finally, Vehicle Inspection Report™ gives the customer what they want and ask for, it is about building trust and letting people get to know real you. VIR™ will make the process of selling your car easier, faster and may even raise the value of your car.