e-Magazines: Let's Put The Print Back Into Your Dealership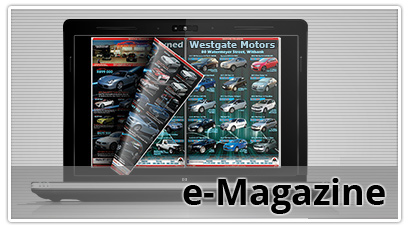 Put The Print Back Into Your Dealership With e-Magazine
Traditional print-based marketing simply can't compete with digital search features available to consumers today. Large scale magazine productions can take days or weeks to deliver current up to date inventory to potential buyers. But that doesn't mean print channels are not effective in reaching a select demographics of people. That's why Autoxloo created the e-Magazine to bring the best of print format and digital distribution to your consumers. With no print cost, no distribution, no postage cost and up to the second inventory your customers can have their magazine delivered right to their email, free for you and instantly for them. e-Magazines offer the best of both worlds. These e-Magazines behave like a normal hard copy of traditional brochures just on the computer screen.
e-Magazine can have several pages like a magazine, it has an exciting and colorful presentation like a magazine, it has your banners and featured vehicles like the magazine, but most importantly it has ONLY your vehicles in the e-Magazine unlike the magazine. You wouldn't share the advertisement space with any other dealership. It can contain featured vehicles, specials, incentives and financing offers plus anything else you want to include. Autoxloo e-Magazine feature lets you get back to the print and campaign to recoup your customers that are still want to see listings as classified magazines.
e-Magazine Advantages
---
Tremendous savings on print, distribution and postage costs
Recoup your print customers and increase your sales
---
Realistic 3D page turning shows only your inventory not other dealers / competitors
Negotiate lower print cost with your print publications
The most eco-friendly way to communicate
---
Print it, save it to flash drive or email it to increase your sales
E-Publishing of any number and size of pages with fast
The e-Magazines is available in different formats including A4, C5 and more. Our digital brochures are made with the highest quality and professional design. They are virtual magazines that customers can download or subscribe to. Pages can be zoomed and flipped over, all these because of realistic 3D page turning. These e-Magazines could truly help you market your inventory and services at a reduced cost. In addition to being less expensive than traditional print, any vehicle information, pricing, details, contact persons or phone number changes made on your website is instantly updated on the e-Magazine without having the expense of a costly reprint.
One of the main benefits is that e-Magazines are easier to share and distribute. Your customers can subscribe and have it proactively delivered to their inbox.It can also be embedded on your website, saved to a USB Drive, copied to DVD, or simply printed and handed to a customer in your showroom. You can also share your brochures on social networks e.g. Pinterest, Instagram with just few clicks or post them on eBay and other online listing sites. Furthermore, you can send it directly to your marketing vendors and print publications to use as your template and be sure to ask for a cost reduction on the next print since we have done all the hard work for them.
Our e-Magazine feature also has an excellent tracking tool for you to see how many times an online brochures has been viewed.
Our teams are here to help you bring your media experience to the next level.