Buyer's Guide Automation: Seamless delivery to your printer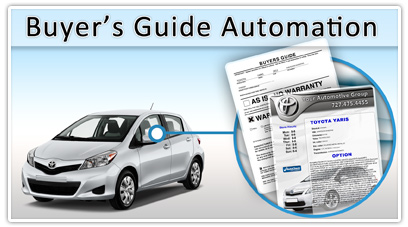 Decrease time lost
At Autoxloo, our motto is: Make it simple so a child can use it — make it flexible so everyone can benefit from it. One thing that we are always concerned about is that our customers are compliant with federal mandates and are meeting their obligations to the public. That's why we never stop improving and developing solutions that reduce risk and automate to save time. In keeping to our commitment we have created the fully automated – Buyer's Guide, Window sticker and Addendum module.
Federal Trade Commission has mandated every dealership must have a Buyer's Guide displayed on every vehicle on your lot. Its not so much the time it takes for dealers to create the buyers guides but rather prioritizing into their routine with all that happens everyday. Over time it becomes less important until the day a Federal Inspector shows up on your lot and slaps a hefty fine for each vehicle missing a buyer's guide. Then reality sets in, that had it been a daily habit the fines could have been avoided. By the way, the inspector doesn't care if the person you had assigned was sick, forgot, was just getting around to doing it. The inspector is doing their job and fines your dealership because you are ultimately responsible for all that happens under your license.
AutoXloo proprietary algorithm can establish the exact warranty type available for your vehicles using your existing warranty vendors offerings. Professional and detailed buyer's guides and window stickers will keep your dealership compliant, save you time and avoid hefty penalties.
No more handwriting the year, model, make or any other information you needed on the buyer's guides. Everything is FULLY AUTOMATED. We are able to brand by make, odometer, year, in service data to set the warranty for each vehicle. We audit CARFAX and AutoCheck for the in service date and generate the reports based on the specific vehicles parameters. Just notify us of the requirements and your Buyer's Guide is ready in no time. We take a feed of your inventory and provide you the reports every morning directly on your printer (blank page or pre printed forms) or send you a high quality PDF file with each group of vehicles sectioned out based on your needs. Buyer's Guide Automation meets Turnkey technology.
Main benefits of the Buyer's Guide Automation:
Flexibility. Modify by odometer range or any other criteria for each type of warranty.
Available in Spanish and other languages as needed.
Window Stickers Templates adjusted to your dealership needs
Addendums for new vehicles.
Perfect print Quality
Warranty Information synchronized with CARFAX
QR code with link to your website
Advertise your dealership on every vehicle.
Turnkey technology.
Opportunities for service optimization
All elements in PDF are in vector or bitmap format to give you a crisp and clear print out. Autoxloo will deliver the report to your email or directly to a designated printer in your store. We will submit full report generated daily or weekly depending on your needs.
In addition, we offer addendums for new vehicles and custom window stickers designed specifically for your dealership to match your specific business campaigns. Our custom window stickers will give your dealership a professional appearance and help build value for your customers. Let your vehicles sell themselves when your dealership is closed. Moreover, our window stickers contain QR codes deployed by any smartphone that launch the car details page on your website.
We do it all for you.