The Most Important Features of the Vehicle Details Page
If you want a vehicle to be driven off your lot, you need to put it on your website. While it seems an easy task, the design of your vehicle details page (VDP) can greatly affect the number of people it brings in. A VDP can either convince the auto shoppers to visit your dealership or force them to bounce and look elsewhere.
Below you will find an example of a neatly-designed VDP page with a list of visual elements that improve shopper engagement.
What should a good VDP contain?
To make a final purchasing decision, car shoppers need an abundance of information. However, it takes an average buyer around 5 seconds to spot the needed details or the lack of them, so make sure all the critical information is visible. Given that the larger part of the buyer's journey happens online, you need to make this trip engaging and your car dealer website design clean and user-friendly.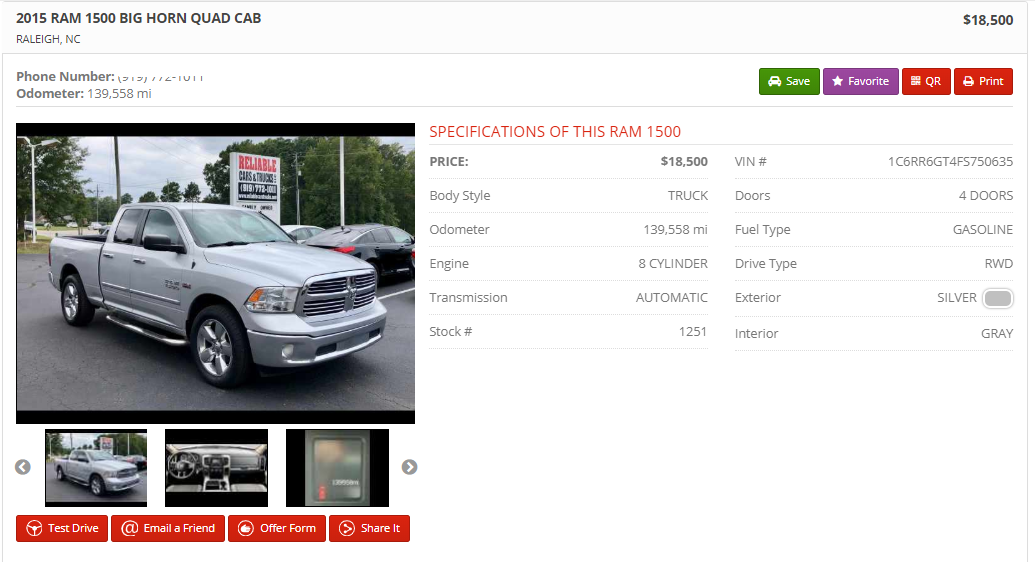 Vehicle Gallery
The vehicle gallery is a centerpiece of a VDP page design and the first thing that catches the shopper's eye. Try to upload as many live photos of the vehicle as you can. Don't forget to test how your gallery displays across different devices, browsers, and operational systems since broken images are one of the top reasons why auto shoppers leave a website.
YMM (Year Make Model)
The auto shoppers that already have a specific vehicle in mind, perform their online search using YMM as a keyword, so make sure you have this basic info incorporated into your VDPs.
Price
Price is another point of buyers' interest that they are expecting to see on your vehicle details pages.
Location
Specify the current vehicle location to make your VDP page appear in more local searches.
Odometer
Mileage readings are one of the decisive factors when it comes to buying pre-owned vehicles.
Specs
Right after viewing vehicle photos, car buyers would want to explore some basic car specs, so make sure they are within an easy reach.
Calls-to-action (CTAs)
Putting a lonely 'Contact us' CTA is definitely not enough. Allow car buyers to interact with your dealership in different ways: offer their price for a car, share a listing in social media or email it to a friend, instantly schedule a test-drive, print out the VDP page, etc.
It bears repeating that buyers should be able to save or bookmark a vehicle to come back to it later as many of them access your inventory on-the-go.
Combine details with clarity
We've seen a lot of VDP pages from different car dealer website providers. What unites the bad ones is cluttered design, insufficient vehicle details, and no further action offered.
At Autoxloo, we learned a trick to keep the screen uncluttered and clear while displaying a highly detailed vehicle description. We build car dealer websites that are intuitive and easily navigable to reduce bounce rate and increase your conversions. Contact us today if you want your VDP pages to bring in more car buyers.