Meet us at the NAAA Convention 2019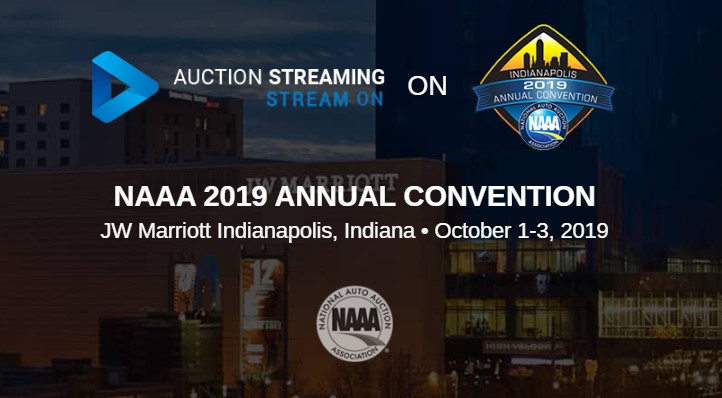 Meet our team at the National Auto Dealers Association Convention 2019! The event will be held in JW Marriott, Indianapolis, Indiana on 1-3 October. This is the first year since 2016 when NAAA goes solo on their fall convention after ending the affiliation with Cherokee Media Group's (CMG) National Remarketing Conference.
For the industry, this split-up means having one more important event to attend which we invite you all to join us at.
If your business is related to the wholesale auto auction industry, schedule a meeting with our team during the NAAA Convention 2019 and discuss how our software can move the needle on your sales and profits.
We have developed more than two dozen software products engineered exclusively for the Automotive Auction & Wholesale industry to make buying and selling vehicles online easier and provide a seamless auction experience:
CAMS 3™ or Cloud Auction Management System is our one cloud, one platform, one solution that brings together multiple smoothly-working auction modules.
SimCast™ Simulcast allows auctions to create new sales channels and engage more online buyers to their physical lanes by having a live stream during the live sales events.
VIR™ Vehicle Inspection Report software takes traditional vehicle inspections to the next level of accuracy. VIR™ puts an end to customers trying to decipher the handwritten hieroglyphics by creating easy-to-understand online condition reports.
AuctionLink™ data feed pushes vehicle listings to the top online automotive marketplaces like SmartAuction, OVE, and Adesa as well as to six platforms proprietary to Auction Streaming: autobestseller.com, globalcarexchange.com, localautosonline.com, 7dayautos.com.
Digital Marketplace is an integrated environment that enables our customers to run timed auctions and sell vehicles on any day of the week.
In 2019 we have also added a list of new features that will facilitate the buyer-seller relationships even more:
If-Sale Counter Offer
Auctioneer Display Interface
In-App Bidder
Mobile Dashboard
A.I. Auctioneer
Auction On Wheels
Visit Auction Streaming to know more about the products and services that we provide to help the wholesale auto auction industry keep up with technology and be more efficient whether in-lane or online.
If you are headed for National Auto Dealers Association Convention 2019, book a meeting with us during the show to talk about the profits that you can face with our software.