Implement Contactless Vehicle Sales and Services with Autoxloo
New reality calls for new ways of doing business. At Autoxloo, we help dealers to update the way they serve automotive shoppers in order to remain operational and financially sustainable while complying with the restrictions imposed by the government. To recover from a current foot traffic drop-off, we offer dealers the software for fully contactless online vehicle sales.
How can you serve customers that looking for new inventory or car promotions in times when traditional test-drives and sit-in experiences are not an option? Launch a new online service that will let consumers shop for their next vehicle entirely online with no physical contact involved.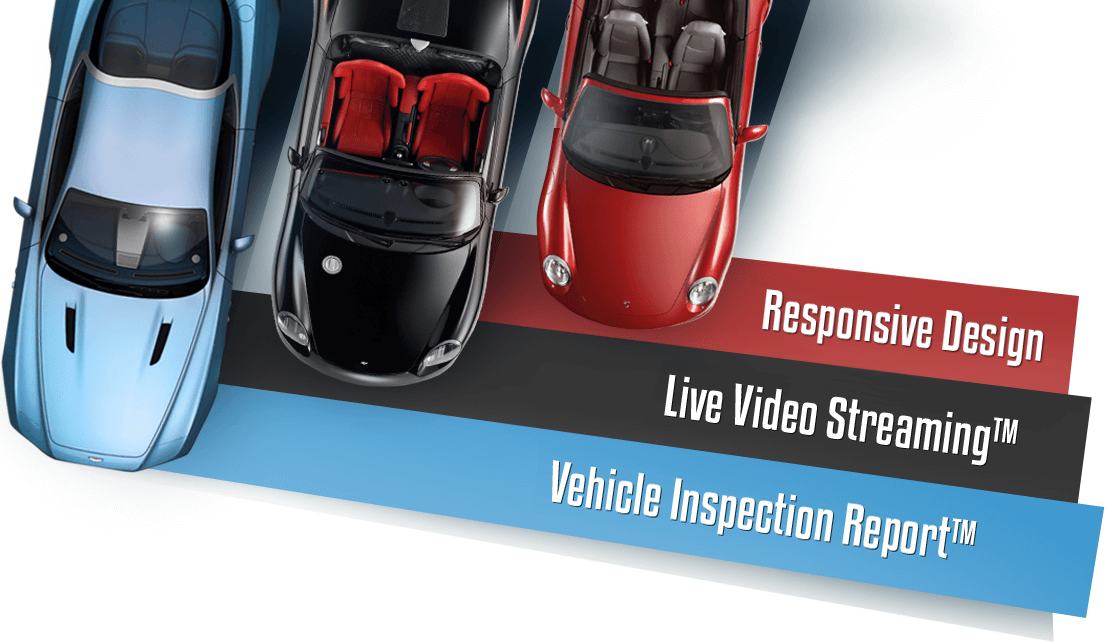 Autoxloo offers its dealers our three-item package that includes modules for the comprehensive online vehicle search (RWD), live demonstration (LVS™) and condition evaluation (VIR™). When used together, these modules can help you to walk your customers through the entire sale process online, including such critical steps as a virtual test drive and online vehicle inspection.
Online RESEARCH
RDW Responsive Dealer Websites
The RWD technology delivers the slickest online shopping experience by automatically resizing your website, including SRPs (search results pages), VDPs (vehicle details pages), Contacts, Financing information, and other data to perfectly fit any device it is browsed on.
Each new car dealer website design template goes through extensive usability testing that involves different car buyers groups. This way we get plenty of insights about what works best for today's automotive shoppers and build our responsive dealer websites accordingly. We estimate the optimal number of vehicles per search results page, the call-to-actions that are clear and highly-convertible, the most consumer-friendly SRP/VDP architecture, etc. All these approaches, coupled with a website being optimized across devices is why our dealers trust us with their businesses.
RDW enable your customers to safely browse your inventory from the comfort of their homes using their smartphones, tablets, laptops, or desktops, customize their search via advanced filters, save vehicles for later or contact you right away through the responsive website forms.
The first stage of the contactless buyer's journey can be seamlessly completed online moving those highly-needed leads into the sales funnel.
Live DEMONSTRATION
Once the buyers have decided on the vehicles they're interested in, our LVS Live Video StreamingTM will take them on a live video tour during which their concerns and interests can be addressed immediately and the biggest aspects and the selling points of the vehicle can be highlighted as you speak.
To take your online buyers from hesitation to certainty, you can demonstrate the vehicle in motion. Using LVSTM on your device, you can invite a customer for a virtual test drive to once again remind them of the perks and features that come with the vehicle. This step requires only one person and a device where the application is installed meaning you can keep your employees safe selling cars at the same time.
Digital INSPECTION
VIR Vehicle Inspection Report™
Vehicles with condition information sell two to three times faster than the ones without it. In times like this, when there's hardly a way for buyers to inspect vehicle condition in person, having a comprehensive digital inspection report on your inventory can become a deciding factor for most auto shoppers.
Build buyer confidence and make them look at your inventory rather than your rival's. Our VIR™ works perfectly on both iOS and Android devices allowing you to create an accurate, detailed and trustworthy vehicle profile disclosing the quality of its exterior, interior, mechanics, tires, frame, paint, etc. Each part is graded with a numeric value that ranges from 0.1 to 5.0 (0.1 is 'Extra Rough' and 5.0 is 'Extra Clean') and a corresponding color according to its condition.
The level of detail our VIR™ provides is not available with any other system on the market today. The VIR™ module contributes to the positive experience customers will have with your dealership when opting for a contactless car buying online.
Redirect Resources Towards Contactless Sales
At Autoxloo, we have been helping car dealers to actively market and sell vehicles over the Internet long before the present situation occurred. This translates in all of our modules working excellently, ready to provide sustainable solutions to these challenging market conditions. We have already received positive feedback from our dealer customers that switched to fully contactless vehicle sales. Such an adaptation as a response to the current situation enables dealers to remain operational without compromising the safety of their buyers and employees.
We are here for our existing and new customers to keep their business up and running. Our software solutions feed on the latest innovative technologies in automotive marketing bringing the future of car sales to now. Contact us today to start selling vehicles online.