How to Increase the Online Sales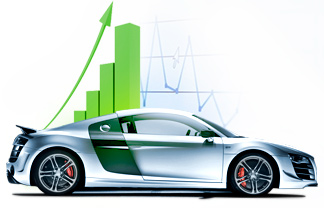 Competition in the car sales sphere is very high today. A car purchase is a serious investment after all, because the prices on cars are much higher than the cost of other products and goods. This is the main factor that influences much on how the vehicle sales go. So under these conditions dealers should be properly equipped with information and technical tools which can help them increase the level of their vehicle sales and build up the most effective and profitable business strategies.
Successful sales are built on the algorithms and formulas, that is, on the technologies that work. Thus, prosperous dealers build their sales systems and become winners. They don't experiment chaotically to finally give the market share to their competitors.
There are four general criteria you should develop to increase your online sales:
Leads or the incoming stream of potential customers. In other words, all the people who showed interest to your vehicles. Even if a customer didn't buy anything, just simply clicked a button. This user falls to the Lead group because he/she can become your client. To have leads you should attract a target audience to your website. Good traffic is guaranteed with a constant website promotion. So it is necessary to cover the maximum volume of audience by using the most popular advertising platforms. An excellent practice is to advertise your dealer website in lots of catalogues. It is important to optimize and index your website with the search engines. You can use Google Ads services to attract targeted customers. Do not ignore social networks.

To have good traffic you should work on your dealer website promotion on a daily basis. Distribute the information about yourself on the forums, catalogs, etc.

Conversion or the percentage of people who switched from potential customers to real buyers by purchasing your vehicle or service. To know your conversion index divide the number of deals by the number of potential customers. Conversion rate can be increased with the effective web design, low prices, special offers, promotions, free shipping, good quality and big number of photos, authoritative vehicle descriptions, characteristics, and specifications, customer's reviews and testimonials, online help, etc.
Average check or a figure that shows how much money an average customer spends on a vehicle purchase. To get the average check value you should divide all the revenue earned by the number of deals. To increase the average check put your best vehicles with the best price on the top. Post them to the banners or retargeted ads. You can also use cross-selling, free shipping, donating, cashbacks, giveaways, etc.
Repeated sales or the percentage of customers who made one-time purchase, and who came back to your dealership again. Repeated sales is the goal you should try to achieve. Use the tools which encourage your customers to buy again. Promo codes, Mass Mail, special offers, customer support, membership in a society or in a club, saving programs, gift certificates, selling affiliate products, content marketing, and holiday offers will help you succeed.
To enhance the online sales of your dealership you will surely need a professional help. Autoxloo offers you the proven dealer software for increasing the sales volume. With Vehicle Inspection Report™ (VIR™) your vehicles and vehicle parts will be thoroughly inspected and graded according to the generally accepted auction grading system. So the quality of your cars and the reliability of information you provide will be proved with the authorized source. Live Video Streaming™ (LVS™) module will allow you to showcase your vehicles to a customer live in real time. Thus, the customers will be able to make the right decision on the car purchase at once. You will save their time on the journey to your dealership. SimCasts™ app will present the vehicles to your customers online at the last minutes of the auction period. Our photo & video services as well as YouTube posting service will help you distribute the information about your vehicles throughout the Internet. Join our team of hi-tech developers and lovers and implement advanced technologies into your business! You will see the difference that will be a pleasant surprise for you.