Customize your dealer website pages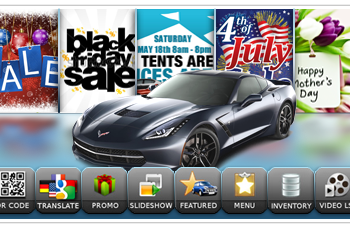 It goes without saying that every dealer website must be attractive, exciting and constantly updated. How to achieve this if you don't have technical skills? Do you want to have pages with specific content on event dates? Autoxloo has the solution for automotive dealers! Make-A-Page™ (MAP) is a website builder that allows you to create easily your own fully-functional website. It doesn't get much easier than this!
Promoting your events with MAP is a great marketing tool. Use as many mediums as possible to promote the event. Tell the story of your sales events and holiday specials with photos, video, slide shows, banners, audio and customized design by modifying everything from fonts, colors, sizes. This will get a targeted audience to your dealership.
With the help of MAP you will be able to create as many pages as you want. There is an opportunity to create multiple web pages for future sales events and holiday specials, then simply "activating" the page when the time is right.  Moreover, create pages beforehand, then just put the exact time of activation with the help of our nifty widgets and enjoy the results. Your dealer website will make all the work for you from now on. The right pages will be activated automatically in the required time. You don't have to be distracted by these issues when you have a lot of other stuff to do during holidays and specials.
Autoxloo makes all these possible.Try now and you will see how easy it is to build your website.