Halloween is just around the corner, so we have decided to demystify six 2019 car dealer SEO strategies that might be scaring you off but when faced and implemented, will attract more visitors, bring in more clicks and visibility, and help you to sell more cars eventually.
1. GMB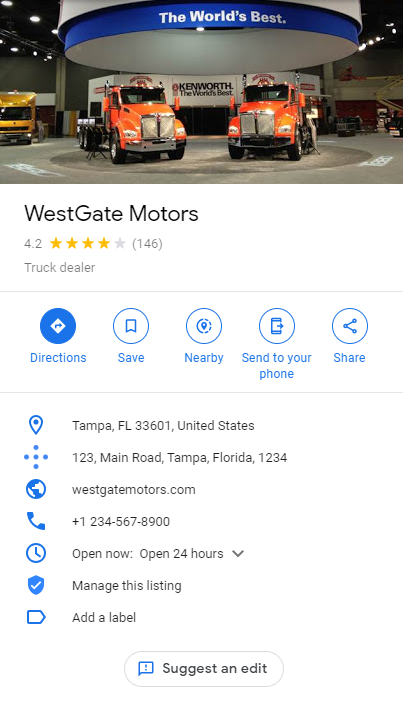 Abbreviations are among the things that can make it difficult to embrace the power of SEO. Starting from its own name, the SEO industry is packed full of PPC's, CPC's, CRM's, HTTP's, and other mystical terms. There will be a separate article devoted to this topic but for now, let's focus on a single abbreviation that nonetheless really matters especially in car dealer SEO: GMB.
The GMB could easily go for a car brand along with BMW, GM, RAM, and other too-long-to-spell manufacturers, but in the world of SEO it has nothing to do with wheels, however, it can help your dealership to get them rolling (off your lot).
GMB stands for Google My Business, a network operated by Google. This service is aimed at providing business owners, including car dealerships, with more control over what is going to show up in search results when users are searching for their business specifically or for similar businesses nearby.
Looking for a place to buy a car involves a large portion of research. Google My Business helps you to display the basic information buyers need to know when deciding which dealership to visit and to catch them in the middle of 'Where should I buy it?' micro-moment.
On your right you can see an example of the Google My Business page that allows buyers to instantly check the driving directions, website address, contact phone, working hours, as well as reviews and photos.
What is scary?
However, there is a thing with GMB that can make you shiver: edits to your listing made by third parties. As it's seen from a picture above, literally anyone can suggest an edit to your GMB profile changing your dealership name, category, working hours, etc.
Of course, Google will review the suggested edits before updates are made, but you still need to stay diligent about tracking any changes in your Google My Business dashboard or in your Google Maps listing, as well as checking for emails from Google that something has been updated or is about to be.
2. HTTPs
Having your website data loaded over the encrypted HTTPs protocol means providing your customers with a safe web browsing experience.
If you enable online financing, there is a lot of sensitive information being transmitted. The HTTPs protocol will help you to protect buyers' privacy and make them feel safe when browsing your inventory or applying for car financing online.
What is scary?
Recently, Google announced that to protect users, their Chrome browser will begin blocking content found on HTTPs pages that loads over the HTTP protocol.
If your HTTPs page has either pictures, audios, videos or stylesheets, scripts, and embedded web pages that require loading via the HTTP connection, Chrome will block it, displaying the page content only partially. This can result in bad user experience, increased bounce rates, and car buyers leaving your website because your vehicle gallery or other critical information is displaying incorrectly.
If you don't pay attention to this Chrome's warning and won't make sure there is absolutely no content that loads over the unencrypted connection, you can make it very hard for auto shoppers to interact with your online showroom thus hurting your automotive dealer SEO.
3. Schema markup
Search engines also need navigation. Schema markup helps them understand what your website data actually means. For example, if you mark your vehicles as products in schema markup, search engines will display them with the assigned price.
The same with other content on your website: contacts, events, Q&As, testimonials, vehicle gallery, walkaround videos, etc. After adding schema markup to your pages, you can improve your rankings as Google will be able to return more informative results for users.
What is scary
Since schema markup is a code, a basic coding knowledge is required. However, there are many online tutorials that you can use starting from a piece of code below that we've created to prove it's not as scary as you think. Imagine that your dealership name is Tampa Honda Dealership and you want to help search engines to understand that a picture of the 2018 Honda CR-V that you currently have in stock is, well, what it is:

You can apply this script to each image that you have on your website, changing its URL, description, and GPS coordinates if the picture is taken at another location.
4. Car Dealer Blog
Blogging is largely underutilized in the auto industry. Most of the dealers have neither writing skills nor enough time to run a blog. However, there are many reasons why you should overcome your fear of embracing this opportunity: increased visibility, more organic traffic and brand awareness, to name a few.
What is scary
A car dealer blog is indeed worth having but poor or duplicate content won't get you anywhere. As well as posting one article in two months. Once you started to post, we recommend doing it regularly otherwise your car dealer blog will look abandoned and can be taken as a red flag by both users and search engines. To be able to blog consistently and keep generating organic traffic to your website, you should consider hiring a copywriter or an agency that will supply you with the amount of content needed.
5. Reputation Management for Car Dealers
Not every car buyer-to-be will tell you in person that they are disappointed with your service, inventory, interior, or coffee. But according to surveys, 8 out of 10 unhappy customers will leave a negative comment online. Many dealerships prefer to stay in denial when it comes to knowing what people say about their business online thinking their offline reputation can beat any number of 2-star reviews.
As we have mentioned earlier, car buying takes a lot of research. During the 'Where should I buy it?' stage, every review ever left about your showroom will be found, read, and considered.
Reputation management for car dealers is a way to spot those comments prior to your customers.
What is scary
One of the unfortunately popular unethical automotive dealer SEO techniques is populating your own site, as well as other sites, with reviews that are not genuine. Such an approach is a bad idea that can hurt your reputation.
To the untrained eye, fake reviews can look okay, but today's autoshopper's eyes have seen a lot and almost always can tell the real ones from the fake ones.
6. Title and Description Tags
These HTML elements that are displayed on search results page, help users and search engines to better understand what your page is about. Similar to schema markup, they provide a more accurate description of the page's content. The best of it is that you can add keywords to improve visibility and attract more organic traffic to your pages. Here is what it looks like in Google search results for our totally made-up Tampa Honda Dealership:

The first line is your meta title that is up to 60 characters, then goes your URL, and a meta description that is up to 160 characters (recommended).
What is scary
Leaving those tags empty is an unwise thing to do as you pass up the opportunity to improve your position in the SERPs. At the same time, abusing meta information by stuffing it with every keyword you can find won't be appreciated by the search engines.
The Last Word
That's all we have today on the 2019 car dealer SEO strategies that might have haunted you as the ones that are too scary or complicated to implement. The SEO land is a very interesting place ripe with techniques and strategies that can help your dealership to get noticed by Google and other major search engines. If you adhere to the rules and reach out to the assistance, there is nothing scary about search engine optimization. If you still have some concerns, we are ready to guide you through the unknown.
The Holiday season is fast approaching and at Autoxloo we have plenty of holiday marketing ideas for your dealership. Contact us to launch a holiday marketing campaign, set up holiday facebook ads, or get tips on how to sell more cars on 2019 Halloween, Veterans Day, Thanksgiving, and Christmas.