Make-A-Page 2.0™ : Create Event Driven Dynamic Online Experience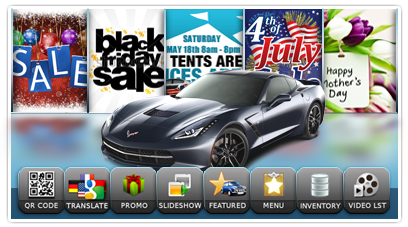 Your Business Is Dynamic; Why Is Your Website NOT?
Most websites are static by nature. Top designers have been able to generate some excitement with flash and slide shows to bring the page to life with ZERO SEO value. Then they add RSS and content swapping tools only to sacrifice esthetic value without gaining any significant page ranking.
AutoXloo is the only DMS & Website provider that has perfected this combination in a patented Make-A-Page 2.0™ (MAP 2.0™) system that is event and calendar driven. Dedicated page content, focused keywords, specialized titles, intelligent URL are only but a few features you will not find with any other provider. Unique graphics, video, widgets, Snipes and JSON delivered inventory offers unparalleled SEO results. Change the Entire Page and expanding your online site indexing.
Change your pages automatically for each of the 12 holidays, 52 weekend sale or have a new page every 365 days of the year. Build them in advance, deploy them at will or schedule each page. You can change your home page, inventory page, specials page, vehicle details pages . . . . absolutely every page . . . anytime.
Your business is dynamic and changing every day, why is your website not adjusting to keep up. Tired of waiting days and weeks while your team implements changes to your website? If the answer is yes, than Autoxloo has the right tool for you! Make-A-Page 2.0™ is a website builder that allows you to create easily your own fully-functional website. It doesn't get much easier than this!
Promote your sales events and holiday specials with photos, video, slide shows, banners, audio and customized design by modifying everything from fonts, colors, sizes. Our Make-A-Page 2.0™ will help you to create a unique design according to your needs. The list of possibilities is only limited by your imagination. Autoxloo constantly adds new applications to give our customers access to the latest web trends.
Take your dealer website to a whole new level of effectiveness. Your dealership will see amazing results when your website is built and managed by Autoxloo. Our highly professional and experienced team is on standby to serve you. Contact us via email or phone.