Auto Dealership Compliance Checklist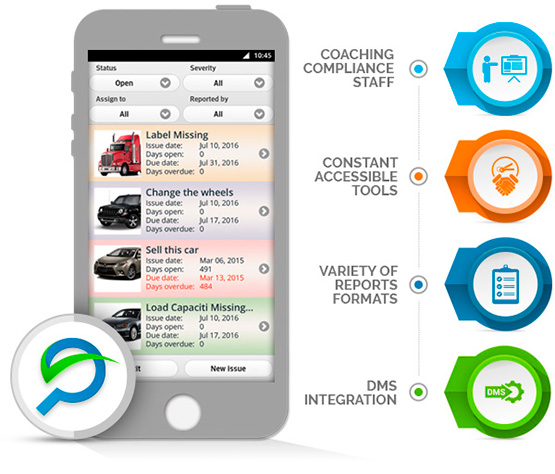 As a car dealer, you must comply not only with a wide range of dealer-specific automotive regulations and standards, but also with federal, state, and local regulations that apply more broadly to all businesses.
Running a car dealership is a fairly complex business: you sell used cars, new cars, parts, services, add-on products, loans, etc. All of those snap together to create a set of legal obligations that can be called: "don't mess with CEE", where a C stands for Customers, the first E for Employees, and the second E stands for Environment.
The consequences for dealers that do not comply with the law, can range from a minor warning to criminal action against the dealership, to a revocation of a dealer's license. So you can be literally put out of the business and have some really big damage not only to your finances but to your reputation as well.
At Autoxloo we don't want you to be held liable for something you weren't even aware of. That's why we have made an auto dealership compliance checklist with the examples of government regulations that each of your departments should comply with:
Disclaimer: the following list is not all-encompassing and does not include all of the regulations for car dealers. The list is for informational purposes only and does not provide legal advice.
Customer-facing staff
These are the key people of any business, including automotive. To make their hands a good place to hold your reputation, keep them up-to-speed with following federal rules and regulations:
Americans With Disabilities Act (ADA):

Prohibits any discrimination against handicapped individuals. For example, your dealership must be equipped with wheelchair ramps, accessible parking spaces, drinking fountains, public toilets, doors, etc.

Your staff should always assist disabled car buyers with the same respect as anyone else. According to surveys, many US salespeople admit they intentionally avoid approaching disabled customers due to the lack of knowledge on how to treat them right and the fear of causing offense.

However, inaction is definitely not the way out since it can be also considered as offensive behaviour.

You should regularly train your customer-facing staff on how to be ADA compliant.

Gramm-Leach-Bliley Act (GLB Act)

This act, also known as the Financial Modernization Act of 1999, comprises of three principal parts: the Financial Privacy Rule, Safeguards Rule and pretexting provisions. To comply with these rules, car dealers must protect consumers' privacy and sensitive data that they collect such as names, Social Security numbers, and credit card or bank account information. Dealers are also accountable for their service providers' access to sensitive customers' information.

This act also prohibits the use of fraudulent statements and impersonation, to obtain consumers' personal financial information.

IRS Cash-Reporting Rule

If you receive from a customer an amount more than $10,000 in cash in one sale, you are obligated to report this transaction to the IRS not later than 15 calendar days after it was completed.
New- and Used-Vehicle Sales Department
Salespeople are hyper-motivated to hit those sales targets you have set for them. While it's a great thing that actually moves the business forward, it can backfire on you.
All too often, car people use a very tempting technique that has large financial implications: telling customers what they want to hear even though it's not the truth. It's one of the most dangerous potential pitfalls in sales and advertising. Aside from being careful with what they say to customers, your sales team should be aware of the following:
FTC's Used Car Rule

You must have a "Buyers Guide" on every vehicle side window including information on make, model, year, VIN, condition ("as is" or with a warranty and of what kind), and service contract availability.

CAN-SPAM Act

Establishes requirements for commercial emails and prohibits using any misleading or false statements in the emails you sent out from your dealership. To comply with this act, you also need to provide your valid physical postal address and a mechanism to opt out from your emails.

Cooling-Off Rule

Guarantees customers that bought a vehicle out of the seller's place of business, a three-day "cooling off" period within which they can cancel a sale.

Disposal Rule

Requires proper disposal of information in consumer reports.
F&I department
Regardless of how happy and purchase-ready a customer is after taking a test drive with the best salesperson in their lives, the F&I department can really bring them down to earth. To avoid this from happening and make sure that a customer journey remains pleasant through all of the stages while maximizing the profits of your dealership, your F&I team must be well-trained and well-aware of finance laws and regulations:
Equal Credit Opportunity Act (ECOA)

Prohibits discrimination in credit transactions on the basis of applicant's race, sex, color, marital status, religion, national origin, age, and public-assistance status.

Fair Credit Reporting Act (FCRA)

Obligates car dealers to protect customers' credit information and holds them accountable for the accuracy of that information.

FTC's Holder-in-Due-Course Rule or Preservation of Consumers' Claims and Defenses

This rule empowers car buyers to raise claims against a purchaser of their credit contracts.
Service & Parts/Body Shop
Some of the government regulations for these two departments overlap. The main purpose here is to protect your employees as well as the environment from any damage from your end and make sure that your dealership is a safe place.
The Clean Air Act

Prohibits the replacement or removal of any emissions-control devices installed on the automobile, such as EGR and PCV valves, catalytic converters, air pumps, charcoal canisters, etc.

The Clean Water Act

Set standards on how your dealership should store and dispose wastewater, stormwater, and oil.

FTC's Used Parts Guide

Prohibits any false statements regarding conditions of the vehicle parts, its previous use, reconstruction or repair.

OSHA Hazard Communication Standard

OSHA regulations for automotive repair shops obligates you to inform your employees of any hazardous chemicals that they may be exposed to while at work as well as of ways to protect themselves.
Autoxloo Compliance Management Software
Legal compliance is complex. Auto dealer business is one of the most regulated businesses in the United States, so simply understanding your legal obligations and government regulations that impact your dealership is a massive job. Implementing those obligations in a form of policies and procedures for your staff is impossible without the help of the compliance management system.
If all you have in regards to compliance, is just a series of manuals that your staff read and signed on their first day at work, you are at the serious risk.
As you can see from our article, every department in your dealership has its own set of regulations. To mitigate your risk profile, you need to make sure that every employee under your roof is educated on those regulations.
At Autoxloo we know that you are too busy rounding up your staff in the conference room to watch a video or take a test. It's a very time-consuming and obsolete approach.
We offer you a new one: our ComplyApps™. It's a dealer-specific compliance management software that will provide online training for your staff and will tell you what departments are on track with training and what are falling behind. ComplyApps™ will let your employees take their ethics and compliance training at their own pace and employ those principles in their job to keep your business compliant and safe.
The automotive environment is very fast-paced, so if you want to maintain compliance in this industry, contact us today.