Multimedia Tools: Make your Dealer Website Dynamic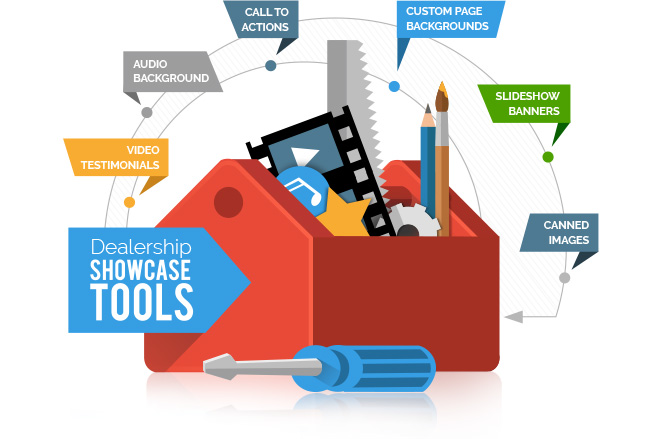 Multimedia Tools drive traffic to your website
The days we are living in today, multimedia tools are very powerful. These tools are so called lifeblood of digital marketing. Interactive multimedia components affords your dealership the possibility to engage visitors with your message, capture interest. Multimedia tools introduce the best features of your dealer website, generating interest and linking to related content.
The combination of visuals, audio and video increases the speed of communication. These tools are so effective because multimedia naturally invites visitors to gain more information. Multimedia components help you to advertise and market your dealer website with a success that is difficult to achieve with the static web pages. Give customers a reason to explore your website.
Your on-line visitors would rather watch some videos, enjoy your banners, slide-shows instead of reading long descriptions of services and products you offer. If the website is not eye catching and engaging, possible customers will leave within a few seconds. Make those potential buyers spend time on your website by displaying your information in the most appealing way to them. It would be best to engage your customers with a relevant mix of informative and eye catching content.
While creating high quality content, you can start by gaining your customer's trust and building meaningful relationships with them. As soon as you have high-value content to promote, put it live where your customers spend time.
Facebook, Twitter, YouTube, Pinterest, LinkedIn
, you name it. Share your dealership website with others and create solid
lead conversion
. With your dealership website, you have the ability to reach your largest traffic source and meet the needs of individuals, groups and communities of people. Interest your visitors with relevant, vibrant media. All of the tools that Autoxloo designed was to create a high quality multimedia website. Which will stand out from your competitors.
Your website will be the one that is unique, informative and visually pleasing. Use
Make-A-Page 2.0™
to make changes to your website whenever you need. No need to wait around for technical experience workers; Use
Make-A-Form™
to create your own forms within minutes; Use
Make-A-Coupon™
to get complete control over the coupons you offer on your website; Use
Make-A-Template™
to post your advertisements to
eBay
; Use
Photobox
and
Canned Images
to upload photos and advertisements between stock images. Plus there're many other tools to use. It's never been this easy to make your dealership website dynamic.
The best thing about multimedia is that everyone can use its incredible power. We will help you find the multimedia features that are perfect for your dealership website and make them function in perfect harmony with each other. Autoxloo offers a full range of multimedia functionality: text, graphics, audio, photo images, animation, full motion video, data etc. Web 2.0 technology supports latest multimedia options online.
Our dedicated team of developers and designers are building industry-leading multimedia tools with the features that professionals use. Why wait? Start using our powerful tools today.