Feel the Power of Autoxloo Mobile Websites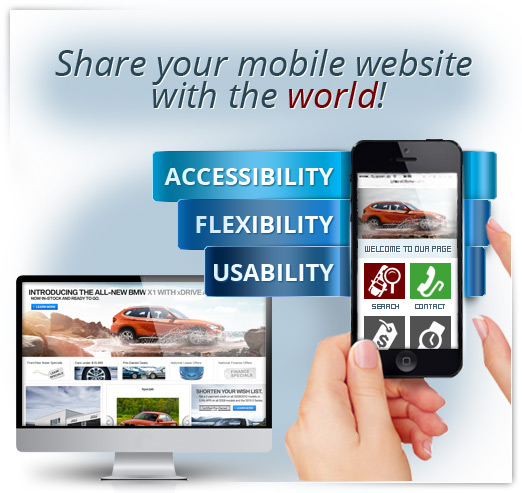 Share your mobile website with the world
Every month there are an increasing amount of people switching from PCs to tablets and mobile devices to browse the Internet. There will be more mobile devices one the Earth than people soon! Haven't got mobile website yet? You are behind the curve and loose for about 50% of your dealership visibility.
Customers visiting not mobile-optimized websites will certainly spend less time on such website and will quickly switch to mobile compatible sites. Besides you are invisible to those customers who are searching for vehicles on their mobile. Mobile search users are 51% more likely to make a purchase than traditional desktop search. And it happens quickly, mobile search was designed to give people what they need in one screen touch.
Autoxloo recognizes the necessity of having mobile-optimized dealer website for every savvy dealership. We have powerful resources to develop, design, test and enhance mobile websites. That's why recently we've updated our mobile websites and added more amazing features!
All of your content is automatically gathered from your dealer website and organized seamlessly to create a beautiful new mobile website for your dealership. Our mobile websites work on all devices and are compatible with all major smartphone platforms, including iPhone, Android, BlackBerry and Windows Phone. No matter how customers access your dealer website, it will be optimized for their device.
Since every mobile user is unique, Autoxloo's customized website would be an extreme benefit to every user with specific client requirements and preferences. Our platform is designed to create a user-friendly and intuitive mobile sites.
Key strength of Autoxloo's mobile-optimized website:
Complete ease-of-use: intuitive user interface, one click navigation, custom layout design, flexibility.
Valuable support and assistance from technical team and experienced consultants.
Developing websites by keeping the target audience in mind.
Solutions with attractive designs and multimedia functionalities.
Clean coding that results into quick solutions development.
Reliable performance, data security and stability.
Latest versions, frameworks and technologies.
Affordable prices and on time deliveries.
Enhancement of previous features, changing them for newer editions.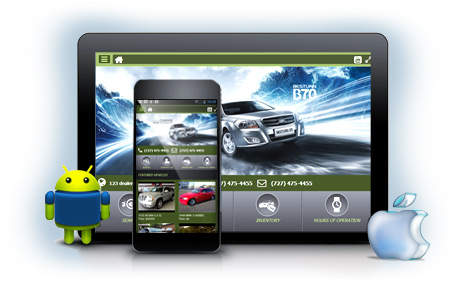 Benefits from cooperating with Autoxloo mobile websites:
Increase your accessibility and visibility, customers have easy access to your inventory;
Your featured vehicles are easily noticeable as they can be found straight at your home page;
Mobile compatible website design for creating lead conversion from your dealer website and high sales conversion rates;
Your dealership will be included in the top search engines such as Google, Bing and Yahoo through being ranked as a mobile site;
Help customers find your dealership and navigate to it using their phones internal GPS capabilities;
Direct customers to your location from wherever they are with one click Google maps or Apple maps. Multiple locations supported;
Support your customers with real time market information, critical data can be accessed and used while on the go;
Reinforce your brand, send your customers notifications of special events, launches, and more;
One-touch access to your contact information: let customers call, email or send you a text message directly from their smartphones with a single click;
Fast appointment scheduling as well as automatic reminder servicing date;
Increase the website usability by adding slideshow banners that are a great way to show large amount of content or images on a small area in a mobile website.
Make it easy for customers to contact you with any questions or feedback: put forms to suit your dealership needs;
Online visitors can easily search the mobile site and find what they are looking for with our convenient search bars;
Let your customers do the sharing all from one place, enhance social networking strategies: all of your dealership's social sites in a single bar.
As a car dealer you cannot escape the impact mobile has had on today's business, so if you are looking for the company who can realize all possible mobile development services and get full extent of solutions, Autoxloo is your number one choice.
Autoxloo mobile websites represent some of the best mobile designs, interfaces, and concepts on the market. Get highly interactive, feature rich and precise mobile-optimized website!