Unified Communication Solutions For Car Dealers
A car dealership is a very fast-paced environment that needs to gather, process, store, and use a wealth of data every day. Different groups of buyers land on your website using various marketing channels: classifieds ads, website forms, direct messages on Facebook, or simply by calling your dealership.
How can dealerships not only handle this constant flow of valuable information but also use it to deliver a customer experience that keeps auto shoppers coming back for more?
Facing and Addressing Current Auto Shoppers' Demands
Multiple market studies, including the ones from Google that we have access to as a certified Google Partner have shown that most of the questions that customers ask when contacting dealerships are inventory-related, or more specifically, features-related.
With vehicles now being loaded with tons of features, auto shoppers devote a large portion of time finding and comparing those features online. In the early stages of the buying process, customers can go to your website and check this information themselves. This is when design, responsiveness, and the timely updating of your inventory come into the picture.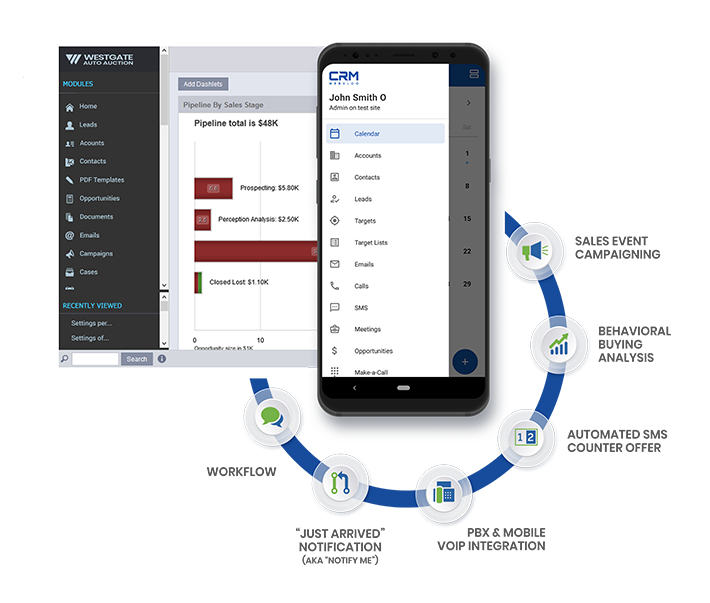 However, as buyers move down the sales funnel, they are getting more impatient and having less time to actually scroll through your vehicle details pages. For example, an auto shopper wants to know which trim in a used Honda Civic includes an armrest that folds down from the middle back seat. Receiving an answer to such a brief question will allow them to narrow down their options and proceed to the next steps.
In order to get a response that they need, buyers can approach your dealership via whatever channel they prefer and regardless of the choice, they feel entitled to get an immediate answer.
Don't Miss Out On Opportunities
If your system can't react in a matter of minutes by either assigning this lead to one of the salespeople or delivering an auto-generated response via the Live Chat, SMS, or Email, you will miss out on a sales opportunity and it's unlikely that this buyer will ever return.
What's worse, if a lead was attracted by any kind of a PPC campaign that you're running and ended up unattended, you can consider those ad investments as money down the drain.
Autoxloo Unified Communications Solution
With Autoxloo's unified communication solution for dealers, you are empowered to immediately follow-up with every web-generated lead coming from different communication channels. We have created a single workspace that connects you with leads to seize every sales opportunity.
What are the Benefits of our Unified Communication Systems?
Instant Notifications
First and foremost, gathering data from multiple channels into a unified working environment for central processing. Regardless of where a lead comes from, your sales team will be immediately notified on their desktop and/or mobile devices.
Eliminate the Reliance on Manual Processes
A lack of automation and heavy reliance on manual processes hamper your dealership's ability to effectively leverage the flow of data and can cost you not only potential customers but also the existing ones.
Autoxloo's unified communication solution for dealers is a digital workplace that automates your workflow to eliminate any kind of human error.
Lead Assignment & Distribution
The automated lead assignment feature equally distributes the new leads among available sales reps to prevent any misunderstanding and confusion and to avoid uneven workload in your team.
The system matches a lead with the right salesperson that is available at the moment and is the most able to move a customer down the funnel towards the sale.
Lead Tracking
It's important to have a detailed lead history in order for any member of your team to take up where it was left off even if a salesperson has never worked with this lead before. To create a welcoming environment and save your prospects from repeating what they have already discussed with another sales rep, you need a record of every previous contact with every given lead.
Autoxloo's unified communication solution keeps track of the entire life cycle of your customer relationships with each stage.
Improve Communication Between Employees
The single communication environment will also significantly facilitate interactions between all your employees: managers, executives, store employees, remote staff, etc, to effectively spread and deliver valuable information and corporate directives and updates through the secure channels.
Unify Your Sales Team
Your sales reps are at the forefront of your business development. That's why it's essential to keep them together and enable seamless team communication. With the unified communications solution, your employees can have one number that rings all of their devices. It will take them one click to move the conversation from one device to another, switch from audio to video and vice versa, enable files sharing, extract the needed data, invite other members of the team to a conference call, etc. Such an approach reduces communication complexity and streamlines your business processes.
Why Autoxloo's Unified Communication Systems?
By selecting Autoxloo's as your unified communication solution provider, your dealership will reap all the benefits of working with the 15-year worldwide leader in car dealer software. Our growing suite of modules and services is transforming today's dealerships into empowered and intelligent businesses with a strong online presence and prompt response to every customers' request. Our solutions will allow you to manage leads in a way that converts them into customers and customers in a way that turns them into business advocates. Contact us today for more information.