Why Should Dealers Work with Google Partners?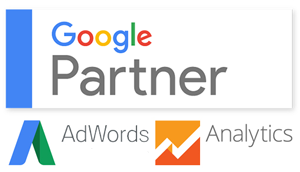 You might have paid your attention to the Google Partner badges placed on some websites. If you hover your cursor over 3 vertical dots in the top right corner of the badge you can see the company's name and all its specializations. What does it mean? Should your dealership work with such companies? What benefits can you get?
The Google Partner badge is a proof that a company gained the Google certification in AdWords and Analytics. Cooperation with such business guarantees the highest qualification of all its experts. E.g. the AdWords as a key component of your Internet advertising strategy allows your potential clients to find you in Google as well as on other websites throughout the net, to pay per clicks (PPC) only if they bring users to your site, to present your dealer business on the Internet and to call to mobile device users.
Google Partners specialize in different types of advertising. You can choose among 5 advertising categories available in Google to significantly increase your online presence:
Search advertising or contextual ads are a type of advertising available in a text format. When users show their interest to your vehicles or services such ads appear according to their queries. They are not intrusive. Partners that specialize in search advertising will set up any ad campaigns in Google Search, make a list of relevant keywords and allocate your budget properly. Your vehicle ads will be displayed on the first positions of Google and can be retargeted if required.
Mobile advertising. Every day millions of people surf the net from their mobile devices. They compare prices on goods and services, search for local sellers and can call you by clicking on your mobile ad if they find it interesting. Google mobile advertising will allow you to keep your potential clients in view no matter where they are. Companies certified in mobile advertising allow you to attract users' attention with the textual, graphical and video ads. Customers will find your brand when they "google" for vehicles and services on their mobile phones or tablets.
Video advertising. The video format is the easiest and the fastest way to get the necessary information now. Video advertising by Google provides the exact covering of the targeted audience, video distribution around the world, using calls-to-action, paying for views only, comfortable campaign settings and the valuable video statistics. The Partners that specialize in video advertising will run effective video campaigns and slideshow presentations on the YouTube channel.
Media advertising or banner advertising includes millions of websites like Facebook, Instagram, YouTube, Gmail, Google Maps, etc. where you can place your banners, textual and video ads. Media advertising specialists will make your graphical and video banners available for website visitors and users of 650,000 applications.
Product advertising. It's a kind of the search ads that includes information about the product, its price, manufacturer, etc. Product advertising doesn't require any special keywords or ad texts. Companies that specialize in this ads type will add information about your vehicles to the Merchant Center, help you create your vehicle campaigns and place your ads on Google.
You can find Google Partners by using such criteria as location, specialization and budget.
Working with Autoxloo as a Google Partner will give you competitive advantages in your brand and vehicle promotion. As the program participant we have the following qualifications:
We regularly take AdWords trainings, sales trainings and undergo certification. You can trust our professionalism.
We have a sufficient support from Google's managers.
Google Partners acquire good skills in website promotion. We have access to advertising materials, and we can learn and consult our clients on new strategies, as well as provide different marketing campaigns.
We have access to special rewards like AdWords promotional offers. As a benefit our clients can get the promo codes.
Autoxloo has been a badged Google Partner since November 2016. Within this time our customers have shown efficiency and relevancy in their online presence by using our marketing strategies and campaigns. Read our Testimonials page to make sure that we are a reliable expert in Google AdWords and Analytics that specializes in media and mobile advertising.