Mobile-optimized Solutions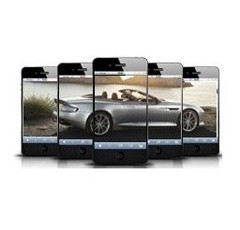 Mobile sites for car dealers  has quickly become one of the most utilized means by which consumers shop for a new car. Each month there is an increasing amount of people switching from PCs to tablets and mobile devices to browse the Internet. Soon there will be more mobile devices on earth than people!
Don't have mobile website yet? You are behind the curve and loose for about 50% of your dealership visibility. Moreover, mobile search users are 51% more likely to make a purchase then traditional desktop search. And it happens quickly, mobile search was designed to give people what they need in one screen touch.  Let us show you some numbers gathered from Google's study on smartphone users:
79% apply smartphone to help with shopping;
28% of those that see a mobile ad take action;
59% of users visit an online store after looking it up online;
95% turn to account their phones to search for a local or regional business;
91% smartphone owners use mobile Internet to socialize, compared to 79% on desktops.
We recognize the necessity of having mobile-optimized dealer website for every savvy dealership. Autoxloo mobile websites represent some of the best mobile designs, interfaces, and concepts on the market. Get highly interactive, feature rich and precise mobile-optimized website!