Mobile Car Dealer Websites Redefined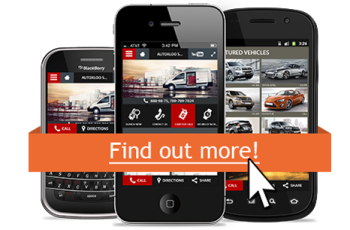 Autoxloo has always been at the forefront of automotive mobile site design and we are proud to announce we have taken car dealer mobile sites to a whole other level. We now offer our dealers a fully dynamic, customizable mobile platform that is designed to keep customers informed and engaged throughout the information gathering phase of the buying process while simultaneously funneling the customer to an opt in form that converts visitors into leads.
Our mobile websites work on all devices and are compatible with all major smartphone platforms and OS, including Android, Apple and Windows.
Mobile Site Key Features:
Fully customizable mobile site.
Multiple layout, navigation and color options.
Promote "Featured" listings on the homepage.
Map feature syncs with Google Maps, MapQuest,  Apple Maps and more.
"Click to Call" icons makes it easy for customers to contact your dealership
Keep customers engaged through banner ads and slideshow promotions.
Users can  quickly search by price, year, make and model or view all inventory with one finger.
Sync with your YouTube Channel provides access to vehicle videos.
Customize which opt in/lead generation forms are visible to the consumer.
Since each mobile user is unique, our customized website would be an extreme benefit to each user with specific client requirements and preferences. If you are looking for the company who can realize all possible mobile development services and get full extent of solutions, Autoxloo is your number one choice.