Is Your Spotlight on Safety?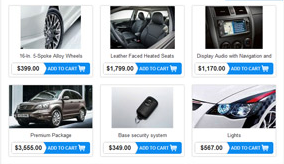 Making sure that safety is always on the top of the priority list may or may not be the most important thing to a car company, but in recent years technology has definitely helped save a lot of lives. Mercedes Benz has been a front runner in a lot of innovation of these technologies. Whether it is their infrared system that allows the car to detect cars around it or their rear view monitoring system safety for the driver and those around the vehicle seems to be a priority. These safety features are becoming more and more important to buyers. Using Autoxloo's "etch-a-word" feature you can ensure your future customer are aware of the features the vehicle offers.
Mercedes Benz takes it a step further with their release of the night view assist. This allows a camera display on the dash to indicate any pedestrian on the side of the road. Not only does an indicator alert you but, it also sends a spot light onto the person to alert them of your presence and alert you of theirs. Mercedes Benz is putting a spotlight on safety by making sure even at night everyone can feel safe.