Facebook has Added More Retargeting Options for Auto Dealers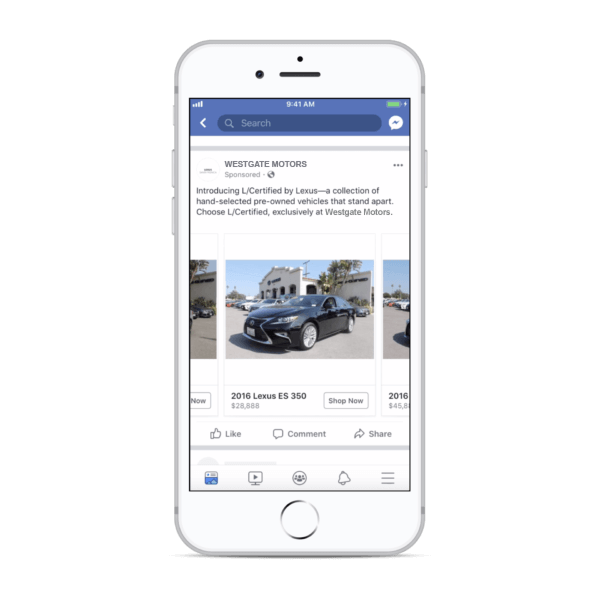 What happened
On January 25, Facebook rolled out an improved version of their "dynamic ads for auto". The new ad product that caters to auto dealers is called "automotive inventory ads", and it allows dealers to boost their reach and drive more prospective car shoppers towards their VDPs.
We have already highlighted previously that, according to Google research, people collect information about their future vehicle online, and they start at least one month before their purchase.
Facebook has recently conducted their own survey and found that 63% of today's automotive shoppers discover new vehicles online. So they enhanced their auto inventory ads to offer users a broader choice of vehicles, and to help dealers target a much wider audience.
How it works
Before the update, dealers could also retarget their ads on Facebook by means of the Facebook Pixel. But only to users who had visited their own website or app. So the marketing reach was limited to that audience.
Now auto dealers can re-engage with many more people. The retargeting capabilities have been expanded to users who had visited other automotive-related Facebook Pages, apps, and sites.
Why you should care
Let's imagine that someone is in the market for a vehicle. They visit several different platforms and car websites, but unfortunately not yours. Now that's okay because you can attract them via the Automotive inventory ads tool. Just upload your vehicle inventory with the usual details, such as make, model, year and location, and Facebook will automatically generate tailored ads relevant to your inventory and will show the most suitable vehicles to those users.
This feature is now available globally for all automotive advertisers on Facebook, Instagram and the Audience Network.
If you want to take advantage of such a great opportunity and set up a Facebook ad campaign for your auto dealer website, contact us today and we will help you to reach more people and sell more vehicles.