The 20 Best Selling Cars and Trucks in the U.S.A. Year-over-Year Comparisons
January is often the perfect time to take a step back and look at the bigger picture. In order to plan a smart vehicle acquisition strategy for 2019, you need to know what the 2018 best-selling cars and trucks were, what vehicles are currently in high demand, and what the most prevailing auto-buying trends are. We have data that can help you to determine which vehicles you should be going after this calendar year.
The major automakers have already reported their 2018 full-year US sales numbers, so we have taken these figures and have listed the 20 best-selling cars and trucks in the USA in 2018.
To make it even more meaningful, we have included the 2015-2016 and the 2016-2017 reports. For each particular model we have highlighted the years with the top, median, and bottom sales figures over the 2015-2018 period.
You can see how many units of each model were sold each year, as well as a year-over-year percentage change from 2017 to 2018.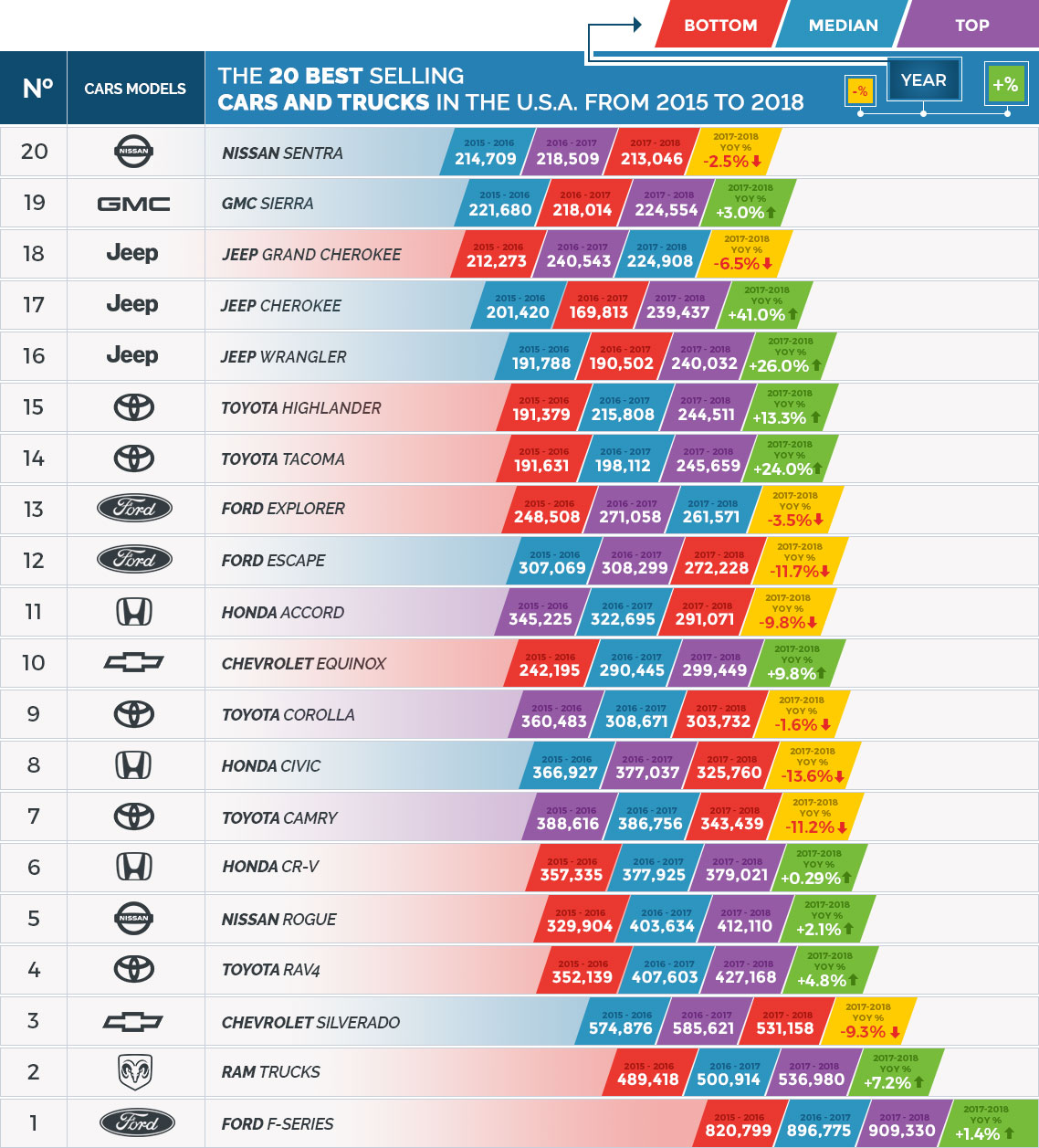 2018 US car market report: It may be stating the obvious, because you most likely have a window in your office, but crossovers, SUVs, and pickup trucks dominate America's roads. Sedans make up only one fifth of the 6.9 million vehicles within the top 20. They have been steadily declining, like in 2016 the top 20 included 9 sedans, but in 2018 there were only 5 of them. Missing from the list this time was the Hyundai Elantra, Chevrolet Malibu, Ford Fusion, and the Nissan Altima. On the other hand, the Toyota Tacoma, Toyota Highlander, Jeep Cherokee, and Jeep Wrangler are now included in the top 20 best-selling cars and trucks of 2018.
The Ford F-series was again crowned the winner (who would have thought). It has been America's best-selling truck for the last 42 consecutive years.
Despite the noticeable slowdown in new vehicle sales in 2018, total sales were up 0.3% from 2017's figures to 17,274,250 units. Regardless of some doomsayers' claims, 2018 wasn't even close to matching the 2009 auto sales crash and financial crisis.
As always, we'll be on the lookout for auto industry trends, updates, and statistics, so make sure to visit our blog on a regular basis.
Please include attribution to Autoxloo.com with this graphic.