Become Visible with MobilePro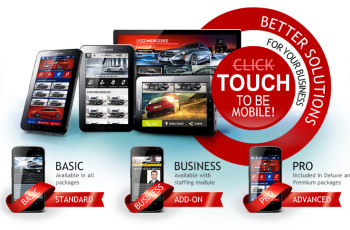 We live in the world of developed mobile technologies. More and more dealerships nowadays try to increase their mobile visibility. Autoxloo knows how to do it. We are happy to announce that our mobile website design is on the forefront and we've brought it to the whole other level. Our mobile websites work on all major smartphone devises. We can also adapt it to every user's need.
Autoxloo suggests you three main platforms: basic, business and MobilePro. The most important and fully dynamic among them is MobilePro, that is designed to keep customers informed and engaged. We've created MobilePro features which will help you to generate more leads. Enjoy major advantages of it:
Multi-platform mobile website now is suitable for every screen resolution. Your customers can easily visit your inventory from any devices.
All MobilePro websites are optimized with the slideshow. Keep customers engaged through banner ads and slideshow promotions. Attract more and more customers with your five latest adds.
Enjoy social & video synchronization. Sync with your YouTube Channel provides access to vehicle videos. You can also share your inventory easily on your Facebook or Twitter accounts.
Promote "Featured" listings on the homepage. Categorize vehicle as you want and compose on special category. Make your featured vehicles more noticeable.
"Click to Call" icons make it easy for customers to contact your dealership. Let your prospects contact any sales person they want and ask everything right away. No need to dial the number, our feature will do it for you.
It became easier to find necessary vehicle. Users can quickly search by price, year, make and model or view all inventory with one finger.
Don't stay behind the latest technologies. Call us now and generate more leads.