14 Tips for Online And Offline Marketing Within a Low Budget for Dealers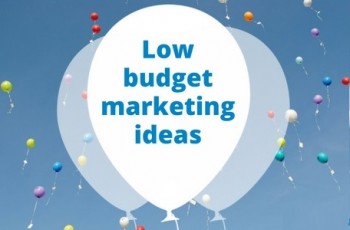 If your dealer business is small or you are just starting out in selling vehicles, you may be limited in your budget and can't afford big marketing campaigns. But it's not a reason to give your competitors a chance to win. A limited cash flow does not mean that you should forget about advertising. And it's not just about promoting your dealership in social networks. There are lots of other options available to companies with scarce funds. So how do you attract customers without spending too much on Internet Marketing? What ways of capturing clients are effective within a low budget?
Do not give up if your money is tight for large-scale marketing campaigns. Even a small budget is not a barrier for your brand promotion. Here are some useful techniques for offline marketing that will help you build a client base without making big investments:
Prepare a brief presentation and be ready to present it to a potential client. Have you heard of an Elevator Pitch? It's a presentation in an elevator. You talk about your business and your vehicles to a potential buyer within the time it takes to go up or down an elevator. It is about 1 minute long. Furthermore, you should present it so that your listener will be inclined to show interest. Your speech should be short, interesting, informative and inspiring. Your goal is to make them want to buy your car. As a suggestion, practice it in front of the mirror.
Pay attention to people around you. If your dealership is not big, your potential customers are most likely to live in the neighborhood. So draw their attention. Do volunteering, cooperate with local charity organizations, get involved in social events, distribute your business cards and leaflets. Use every opportunity to "show up" on a large scale as well as on a local level.
Cooperate with local businesses. Find nearby businesses, not competitors, that could benefit from a partnership with you, and you – by cooperating with them. Establish contacts, discuss your mutual assistance. Thus, you will build good relationships with the right people and extend your client base.
Participate in public events. Delivering speeches at conferences, forums and other events, both automotive and thematic, will help you distribute information about your business. You can act as an expert in some issues, share your business story, experience, etc. Do not wait until people notice and invite you, take the initiative. Be socially active.
Ask your clients for referrals. Some may feel uncomfortable and shy to do this, but if your customers like you, then why can't they recommend you to their friends and family? And there is nothing wrong with that, if you remind them about it. In exchange you can reward your customers with good discount coupons.
Build excellent relations with your clients. Keeping existing buyers is easier than finding new ones. Take time to establish strong relationships with your satisfied customers, and give them a reason to return to your location. They must feel that they can trust you, and that your dealership is there for them. Be ready for communication, and provide the highest quality of vehicles and after-sales service.
Offer discounts, bonuses, and special offers. Give promotional gifts to your buyers. It will help you to attract new customers and keep your established ones. Everyone wants to have that satisfying feeling that they saved money and made a very good purchase. Let them feel it.
Your online activity should be dynamic as well. Here are some tips for online marketing at lower costs:
Keep a blog, send newsletters, post articles on websites. It's an essential source to draw customers. It can be less effective the first year, but as time goes on it will definitely be one of your main tools. The greater your online presence is, the better.
Be active in social networks. Facebook, Twitter, Instagram, Pinterest, and YouTube can all promote your business tremendously. Post your articles, photos, news, interesting facts, and short statements there, start discussions and answer questions. All of your publications should be top quality posts, no matter if they are pictures or just words. People take into account everything, especially small details.
Post your interview. Interviews really work. Leads come from the sites where they are published. So if you are offered an interview even for a blog that is not very popular, you should take the offer. It won't be for nothing.
Provide articles in online periodicals. It's not a waste of time and money to show up in popular third-party online periodicals. It increases your online presence. So provide information about your dealership and vehicles in guest posts on blogs and in online magazines dealing with automotive topics. You can also create your own E-magazine and distribute it not only online, but in printed format as well.
Ask for testimonials. These work great. But you need to encourage your customers. Send them discount coupons, rewards for repeated services, etc. which they can share with their friends. If you do this regularly, there will be more repeated conversions and sales. Essentially from your current customers' acquaintances.
Make a mutual promo. You advertise for a company, and in return it advertises for you. Or you can arrange a promotion together. So put the leaflets of a restaurant, laundry or delivery service in a place where your visitors can see them. It can be mutual advertising on blogs or directly on the websites. It depends a lot on the company-partner. So consider your options and choose accordingly.
Keep your customers. You can work on keeping your website visitors with newsletters or cooperate with them directly. Remind them about you after a while because some customers can "wake up" and make a purchase. Show your interest in potential clients who have passed by. Sometimes they are not very satisfied with the vehicles or services delivered by other dealerships, so they can turn to you. Remarketing will also help you especially with keeping buyers. But it's not a free commodity.
From time to time many small dealership owners face the problem of making a successful marketing campaign when they are hard pressed for money. In the digital world a limited budget is not a verdict. There are plenty of methods that will help you promote your brand, and make a profit without high costs.