Go Live with Live Video Streaming™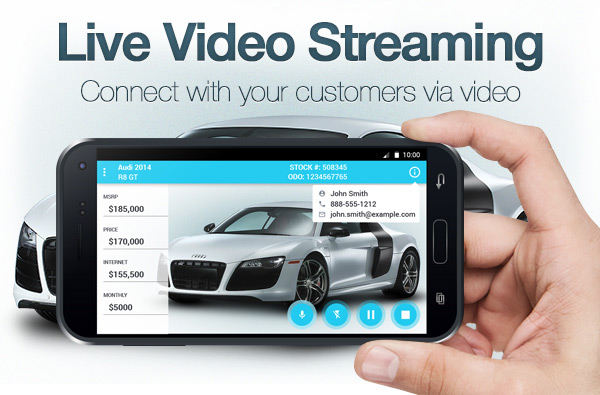 Connect with your customers via video
The LVS™ (LIVE VIDEO STREAMING™) application is the next evolution in lead generation / conversion for both automotive dealers and commercial truck dealers. The Autoxloo LVS™ enables the sales person to provide a live video tour of any vehicle at their dealership.
Our dealers are also using the Live Video Streaming™ app to increase their service absorption rates by showing customers first-hand any additional repairs that have been discovered during a visit to the service department, saving the need for the customer to make additional trips to the dealership. Provides convenience for both parties and improves consumer confidence and retention.
---
---
Live Video Streaming™ Benefits:
Provides your sales team with a tool they need to convert shoppers into buyers.
Expands your sales reach outside your local market.
User does not have to download any software to stream video.
Allows sales person to offer or up sell "similar vehicle(s)" during video tour.
Increases service absorption rate (make your service department more profitable).
Keeps consumers engaged.
Parts department can visually confirm correct part before delivery.
Preview and /or inspect vehicles at auctions.
Increase consumer confidence and brand awareness through transparency.
Lead notification compatible with all CRM's.
Keep logs of all videos for quality control and sales training* *Features only available when combined with the Autoxloo Dealer Marketing solution.
By providing a live video tour the dealer gains the trust of the client through transparency and increases consumer confidence of both the sales and service departments.