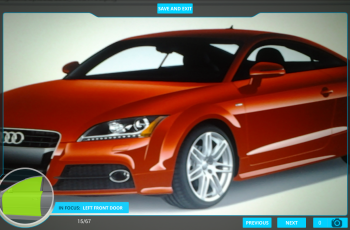 Working with Autoxloo dealers appreciate participation on the top auction systems. If you wonder: "Why?". We will show you then our applications that ease participation on auction and reduce manual typing of vehicles' info.
Our earlier articles were about VIR™ module that gives accurate and detailed information about the true condition of the vehicle. You may assign images to each item, specify vehicles' condition and attach grading for each component on the car.
Have you ever thought over the idea how you can easily update photos to VIR™? Just imagine that your camera identifies all vehicles' details and takes photos of its stuff separately. Sounds good, isn't it?
Autoxloo knows customers' needs and glad to show new feature for VIR™. Take your vehicles' photos in real time and attach it to your inspection automatically with Overlay.  Our solution has eliminated the need for cameras, cables and computers.
You don't need to have additional camera or any other gadget. Showroom management is now in your hand. Overlay feature is already included into all VIR™mobile versions starting with Android, IOS and Windows. Our software creates beautiful crisp images following vehicles' templates.
What if photo doesn't fit your expectations? Review the image and retake it if it isn't 100% perfect. Autoxloo reduced hours of work needed to upload a car dramatically. Overlay feature makes it easier to update your website with the latest stock. A lot of additional images of the vehicle can be taken to show off vehicles' key features and detail points.
If you still don't believe in magic, call us now and get more information about this feature. Don't hesitate to share this article in your social websites.