Increase Sales with Vehicle Inspection Report™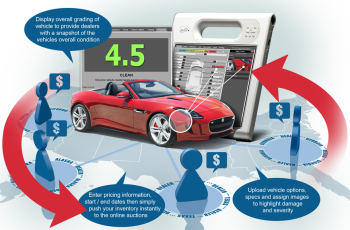 Vehicle Inspection provides protection when selling, buying, and financing vehicles. Traditionally, these inspections have been done with pen and paper, often resulting in incomplete recording and reporting. Processing and storing such Vehicle Inspections costs your dealership not only time but money. Say goodbye to paper-based vehicle inspection reports. Save time. Save money.
Autoxloo's Vehicle Inspection Report™ transforms the old process into a real-time data stream software that provides the storage, reporting and data distribution capabilities your auction needs. With its extensive functionality the Vehicle Inspection Report™ module allows for easy data transfer to any online auction Ebay, OpenLane, OVE or SmartAuction, are the most significant channels in moving your wholesale vehicles automatically and bypassing the wholesale brokers. Join users who rely on VIR™ for their inventory needs.  Put your vehicle in front of thousands of approved buyers and sellers with confidence.
VIR™ is easy to implement and has a full VIN decoding when auditing the vehicle to save the pertinent information about the vehicle and catalog multiple photographs with comments. VIR™ supports all areas of the vehicle such as exterior, interior, drive train, exhaust system, electronics and frame.
Autoxloo's VIR™ removes the guessing game and helps your vehicle sell faster and at a higher price.