Track your URLs with UTM codes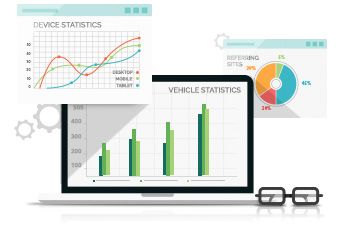 Have you ever wondered what kind of advertising brings the highest number of walk-ins to your dealership? Or which social network draws the most traffic to your website? Or should you spend more money on social networks or email marketing?
You can't look at spending thousands of dollars on digital marketing campaigns and yet be ignoring their effectiveness. Analytics tools are a crucial part of any business strategy. Today let's talk about the key one – UTM codes.
What is a UTM code?
UTM stands for "Urchin Tracking Module". Google acquired Urchin Software in 2005 and this incorporation was the first step towards what we now know as the Google Analytics platform.
The UTM codes are added to the end of the URLs. They contain specific parameters to divide up the incoming traffic to your dealership website.
UTM Parameters = URL + Tags
UTM code are a means to help you see the initial source of the traffic coming to your website. If you're running different search campaigns on Google, Bing and Yahoo or you're sending different mailers simultaneously, you probably want to track the results of each. Here is where a UTM code can help. It allows you to segment out users by certain types of behavior and analyse the core goal – sales leads within your Google Analytics account.
The UTM parameters are fully customizable. You can set up any parameters that you want which can let you know the source of your traffic.
Below is a detailed explanation and example for each of the campaign parameters:
Campaign Source ( utm_source). Use utm_source to identify the source of the traffic.

Example: facebook, instagram, google

Campaign Medium (utm_medium). Use utm_medium to identify a medium of the visit.

Example: newsletter, email, banner

Campaign Name (utm_campaign). This parameter identifies a particular campaign or promotion to see which one is performing the best

Example: utm_campaign=black_friday_sale

Campaign Term (utm_term). This parameter is used for a paid search. It identifies the keywords that have led to a visit.

Example: dealerships_nearby

Campaign Content (utm_content). This parameter is used to differentiate ads pointed to the same URL.

Example: displayad or textad
Whether it's articles, landing pages, or calls-to-action – UTM codes allow you to link your marketing campaigns across different platforms into Google Analytics.
Such adjustments will enable Google Analytics to show you where visitors came from and what campaign directed them to your dealership. It will give you the best idea of what strategy is really profitable in terms of online marketing.
How to create UTM codes:
The easiest way to create UTM codes is by using the Google Analytics URL Builder. Before publishing such links, make sure that they work correctly: by simply clicking on the link that the URL Builder has generated.
Now you know what UTM codes are and why they are beneficial. If you want to set up a marketing campaign for your dealership, Autoxloo will be pleased to help you tag all the links you need to have the complete picture of their performance.