Top 5 SEO Rankings Factors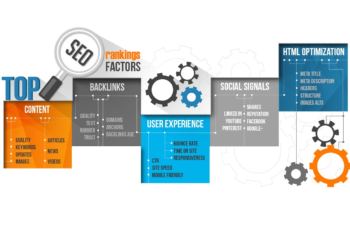 As mentioned in our previous articles, SEO is very important when it comes to finding your website on the Internet. In order for people to get to your website, you must have proper SEO. To be on the winning side of increased leads and higher performance every dealership should pay attention to the following five factors:
1) Content. The quality of your content will drive customers to your website. Research and find what type of content will give you the highest engagement for your target audience. Try various different methods and approaches. Content does not just mean text articles. Go to the next level and provide blog posts, videos, images, how-to articles, interviews, infographics, etc. While creating content for your website, remember that you are generating content not only for people but for search engine bots also. Proper keywords is a must. Quality of your content generates the backlinks themselves.
2) Backlinks. Your backlinks profile should be natural for search engines. You need to have links from relevant and trustworthy resources, but more important to use mixed dofollow and nofollow links. They greatly effect the site position in search engines. Nofollow links help to avoid spam banning. Dofollow links let meta bots reach your website and give you a link juice. All your links should not be text only, you can use image links also.
3) User experience. While ranking your dealer website Google pays attention to following parameters: frequency of site visiting by users, click-through rate (CTR), time spent on site, bounce rate etc For increasing CTR you should use interactive meta title and meta description. To be sure that your site loads fast, we recommend you to use following link to check it. This will help you to decrease bounce rate and increase time spent on site by visitors. Also your site should be mobile-friendly. Test it with the help of this link and take into consideration all of Google's recommendations.
4) Social signals. If you don't have Facebook, Twitter, Google+,YouTube, or LinkedIn accounts yet you are falling behind your competitors. Moreover, if you aren't sharing your data on those accounts, you are losing a great amount of leads. Signals from social media are used as a part of search engine rankings as well. Add social sharing icons/buttons to your dealer website. Most will never spend the time to open their account on social media and post your URL manually. Make your content more share-friendly.
5) HTML optimization. While indexing your website search engine bots study your website structure. The code on all of your website pages must be clean. Each page of your site should have its own meta title and meta description. Use an H1 tag for your targeted keyword and add image alts to all your pictures. For better understanding your site by bots use structuring, for example schema.org structuring that is supported by most search engines and allows to make more attractive snippets in search. Do not use several structured data on one page.
Of course, search engine algorithms and trends update and change regularly. In order to stay up-to-date with the latest SEO techniques, dealerships have to keep track of all novelties. If you keep in mind the above listed SEO factors, you will never fall behind your competitors.
We hope this article helped you to understand SEO better. If you liked it, then please follow us on Twitter and Facebook. If you have any questions, don't hesitate to contact us.