Stream Your Inventory Online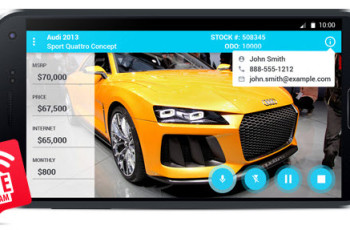 Autoxloo created new helpful feature Live Video Streaming™ that allow your customers to watch their car from the reception area in real time.
With Live Video Streaming™ your customers can close-up at a vehicle without physically visiting your showroom. They don't need special cameras or any other additional gadgets They can deliver live video from Android or IOS in minutes. Demystify the process of selling your car as fully as possible with full Live Video. Don't get under accused of baffling clients with science and offer them full exposure and transparency live tour.
Your customers' personal Live Video Tour is provided on indicated time. Client will just fill in LVS™ form and indicate the time when he wants to review the car video. This process can start its work immediately after form has been filled or hours later. Only your dealership's hours of work can possibly slow down the process. During live tour your prospects may record and save on-demand viewing. Connect with clients through video in real time and coach your service advisors to be on hand to answer any questions after live tour.
Create high quality communication with your prospects. Let them feel more closely involved in the dealership's work. According to dealerships that are already enjoyed the new Live Video Streaming™ this feature will let leads become more closely involved in all car's buying process. The approach is being rolled out across the dealerships' network. Dealers' say that all feedbacks have been "overwhelmingly positive" with all participants polled so far. Raise communication with your customers. Improve their confidence and retention with Live Video Streaming™. Contact us.