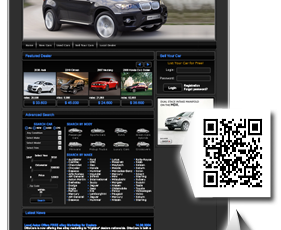 It' s hard to imagine how life was before the digital age. Similar to a carpenter or mechanic we utilize Laptops, tablets and smart phones daily to improve our technological advantage as we manage our day to day tasks in building our online presence.
The AutoXloo QR Module is a tool in helping the customer instantly register and bookmark the Virtual showroom on their mobile device. Your information is stored and delivered to the buyer and can even be interactive with installation of the mobile app prompted by the QR code. Only AutoXloo is able to gather information from your buyer and send it directly to your CRM or leads storage system using a patented pull technology.
You can deliver specific information such as URL, text content, email, SMS, MMS, phone numbers and store location with a single scan to the buyer when registered on the Autoxloo DMS system.
Contact us today at (727) 475–4455 or visit us on the website at www.autoxloo.com to get more information about innovative feature.