Tap into an Experienced Digital Advertising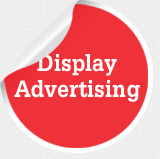 Are your dealership's traditional media advertising generate enough traffic and Internet leads? Maybe it's time to look through your overall advertising strategies. Display Advertising is one of the most popular form of advertising on the Internet. A Digital Display Ad is a graphic image or video ad displayed within multiple websites.
Post your Ads on sites visited by your potential customers, the quality of leads generated from targeted markets is generally higher. Just think about the ability to redirect the customer directly to your dealer website! With display Ads your dealership can promote seasonal events, special offers, rebates,  daily operating practices or special services etc
People are visually stimulated by images more effectively than text. So as Display Ads can contain rich media such as audio, video and animation, they offer levels of interactivity that other forms of advertising can't.  Digital Display Ads are available in many different sizes and shapes:  banners, skyscrapers, leader boards, buttons, inline rectangles, squares of various sizes.
Autoxloo provides dealerships with online display advertising solution designed for automotive Internet marketing. For any dealer who is doing brand advertising, we are ready to distribute eye-catching design and attention-grabbing graphic content. Autoxloo makes these cost-effective marketing tools to help you save money on advertising your dealership's website. With us everyone can have a high impact and highly measurable online advertising program.