National Small Business Week 2017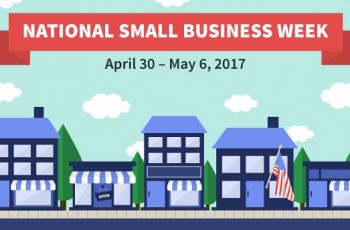 "Recognizing success is important all the time, so celebrating those who have really set forward a new standard, that's fantastic. Networking with those folks and then building on that energy – this is what it's all about", Nancy Gioia, one of the National Small Business Week 2009 participants, said about the most important event for small business owners and entrepreneurs.
The National Small Business Week (NSBW) has been held annually since 1963 to honor the best US entrepreneurs of the year. Traditionally, the Small Business Administration members and other co-hosts of the event welcome guests and honor a group of small business owners as the nation's leaders in this business sector for their achievements and contribution. The National Small Business Person of the Year is a national recognition of the entrepreneurs' work and efforts made.
America's business people proved that the American dream is powerful, stretchy, flexible and evolving. Today small enterprises create over 50% of the jobs in the USA. They are the backbone of economic prosperity and stability, so it's important to know that without them US economy won't be so strong and alive at all. Entrepreneurs carry a lot of the weight indeed. But they are not recognized so often, and it's essential to have an organization that gives recognition and support to all the small businesses, takes business owners, lenders, counselors, and coaches to the next level.
This year the National Small Business Week is going to be held on April 30 through May 6. The City of Oakland, California, will welcome it on May 1-6, 2017. Oakland Business Connect Workshops, resource fairs, Commercial Corridor Connections are new for 2017.
Dealers can have a good business experience at the event. Successful business stories, pleasant networking, new contacts, friendly atmosphere and, of course, outstanding people will open excellent opportunities for any dealership.