Meet Us at the 2019 Digital Dealer Conference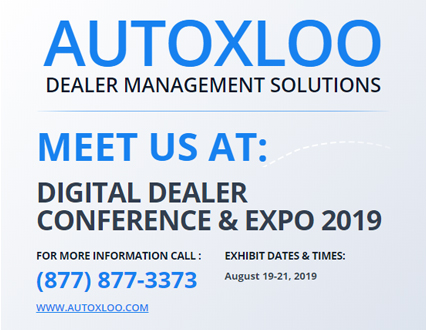 The Autoxloo team is once again heading to Las Vegas to attend the 2019 Digital Dealer Conference. The event is scheduled to August 19th to 21st and will be taking place at the Mandalay Bay Resort & Casino.
We are taking this great opportunity to meet with auto dealers from all over the country, collect their feedback on what would they want to change in regard to their online and offline sales, brand awareness, online reputation, dealership compliance, as well as other business-specific aspects, and offer them our solutions.
It's Time to Change
The US vehicle sales were predicted to drop to 16.9 million in 2019 from 17.3 million in 2018. The midyear sales reports that have been recently revealed, got the industry thinking that the prediction might be accurate.
Despite the declining in sales, people still buy cars, only they buy from those dealers who are living up to car shoppers' demands and create a seamless buying experience with many online touchpoints incorporated.
At Autoxloo we have been helping dealers to remain profitable during the industry downturns in the past connecting them with car buyers.
If you want to avoid being affected by the current sales decline, schedule a meeting with us at the 2019 Digital Dealer.
As a certified Google and Bing partners, we know that in 2019 a large portion of the automotive leads is coming from search engines.
We will help you to adapt your dealership business model so you can effectively reach automotive shoppers online and deliver your message directly to those who are in the market for a vehicle.
All-in-one Solution
Unlike many other software providers that offer just a fracture of services that a dealership needs, Autoxloo has it all:
Responsive website design
Dealer Management System (DMS)
CRM for auto dealers
Live Video StreamingTM
Vehicle Inspection Report™
SEO for car dealers
Reputation Management for car dealers
Automotive PPC
Social Media Marketing for car dealers
We offer you our unified solution engineered exclusively for the automotive industry: from designing an online showroom from scratch to setting up analytics for your existing website and continuously optimizing it for search engines to get you more online sales leads.
By partnering with us, you will get an array of products and services to sell more cars regardless of the industry downturns.
If you are going to be at the 2019 Digital Dealer Conference and Expo this August, make sure to schedule a meeting with our team to talk about the business opportunities that your dealership will benefit from.