Helping Auto Dealers To Decide on Their Next Move
At Autoxloo we supply auto dealer software to serve independent dealers all over the world including Europe, North America, South America, South Africa, and Eastern Europe. Currently, the US automotive market constitutes the biggest chunk of our business. Regrettably, the US dealers are among the most affected by the pandemic and in search of actionable solutions to overcome the crisis. The aftermath of the stay-at-home order, social distancing measures, and stores being forced to close resulted in considerable uncertainty among American auto dealers.
During the past weeks, we have been receiving a lot of calls and queries from dealers in regard to what they need to do next to preserve resources but at the same time remain operational.
With tools that we now have and use such as our proprietary Business Intelligence system powered by AI and Machine Learning that we use to analyze our car dealer websites and being a certified Google and Bing Partners, we have access to a tremendous amount of data and experience-based insights.
This is why we are capable of helping dealers to modify their operations in order to comply with new rules and current buyers' preferences. We can offer better technological tools and auto dealer software to help dealers sell cars even if they can't follow the norms of the automotive business such as getting people in the luxuries of their showrooms, sit down with them and have an in-person conversation, take them on a test-drive, etc.
Although it's hard to mimic the offline car buying experience, our data shows that today's auto shoppers are ready to trade the thrill of walking through the rows of shiny cars sit gleaming in the late-spring sun to a little less exciting but much safer online shopping experience. The data we have collected over March 2020 depicts the growing reluctance among auto shoppers to physically visit a dealership: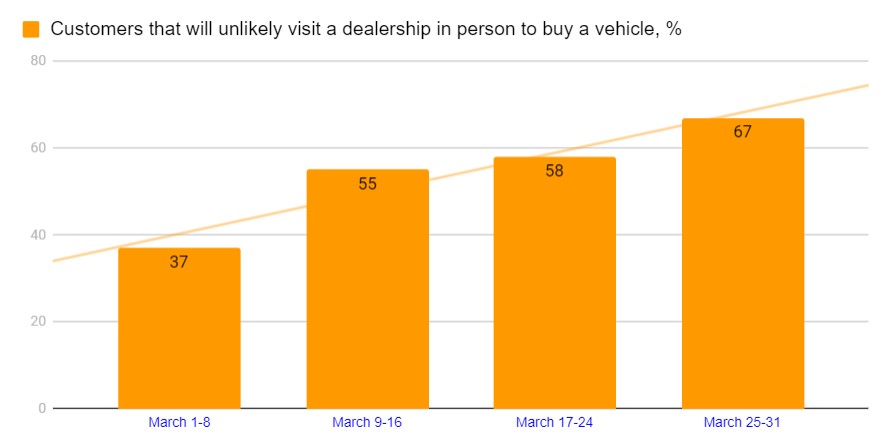 At the same time, the percentage of people that are delaying their vehicle purchase that was steadily growing from the beginning of March has plateaued in mid-April at 33-34% leaving two-thirds of in-market shoppers actively looking for a good deal: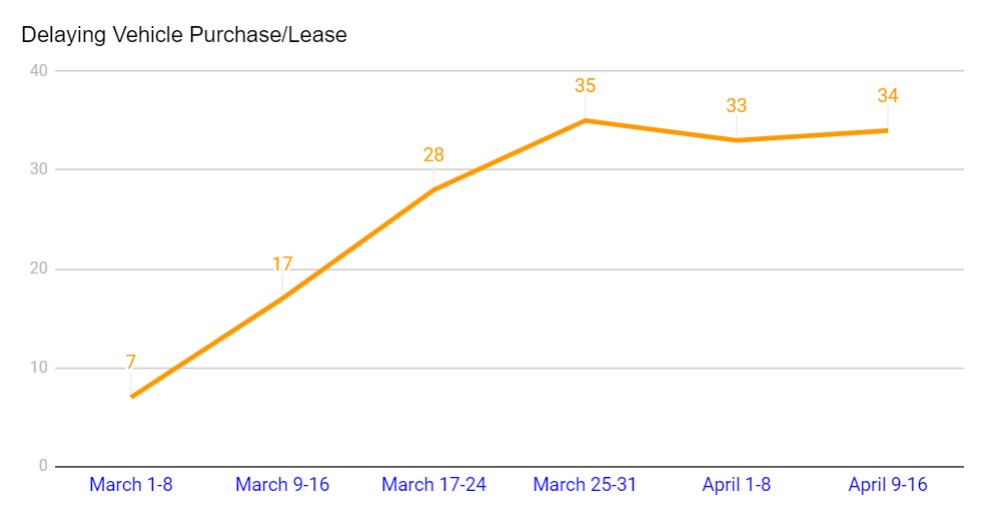 There are two valuable insights that can be derived from this data:
Around 66 percent of auto shoppers are actively looking for a vehicle.
More than 67 percent of them want to avoid visiting a dealership and prefer to research and buy online.
Given the data above, it's crucial to have a fully-functional car dealer website complemented by innovative auto dealer software that will be powerful and user-friendly enough to attract and retain in-market shoppers and provide them with an online car buying experience that they're expecting.
At Autoxloo, we offer dealership exactly this kind of solution that will alter the way they market and sell, will help them to reassure their current clients, and remain operational during this downturn.
Transition to Online Sales
The recent restrictions ban the large groups assembling at one location, but Autoxloo auto dealer software helps independent dealers to comply with this new norm as well.
For the past 4 years, we have been developing towards replacing the human workforce with robotics and software to help dealers significantly reduce labor costs. This resulted in our LVS™ and VIR™ modules that will provide your buyers with a positive experience for shopping online and choosing the vehicle they want without having to leave the comfort of their homes. The rich functionality of our LVS™ and VIR™ modules reduces the staff your dealership needs to conduct online sales, vehicle walkarounds, and virtual test-drives.
LVS™ Live Video Streaming
Demonstrate customers any vehicle in your stock LIVE the moment they are ready to see it utilizing our latest LVS™ Live Video Streaming technology. You can as well invite them to take a virtual test drive with your sales staff and demonstrate all of the features and options on the vehicle at the same time.
VIR™ Vehicle Inspection Report
Show customers that the quality and safety of vehicles available are the top priority for you. Settle the nerves of online buyers and ensure they make confident buying decisions with our VIR™ Vehicle Inspection Report. Our VIR™ provides a detailed close-up profile as well as quality grading of any SUV, car, or truck in your stock and determines its condition by a numeric value to help auto shoppers search and find the best vehicle instantly online. You can book a free online demo with our specialist to learn more about LVS™ & VIR™ modules.
Reasons for Optimism
If we look at China's post-epidemic car sales, Wuhan, once the epicenter of the virus, is getting back to business pretty quickly. After the 77-day lockdown was lifted on April 8, people are eager to return to normal life and even to make such a big investment as buying a vehicle. Still being very cautious, people prefer to invest in personal transport rather than use the public one. One of the local dealers noted that auto sales are rebounding at a rapid pace and called it 'a boom they have been holding their breath for'.
As to the US, the data we have from our car dealer websites points to the fact that people are still buying vehicles and that is definitely a good sign. However, the online traffic to dealership showrooms varies highly from state to state due to the uneven impact of the epidemic. We are intensely focused on understanding our clients' specific regional needs and stand ready to implement any required workflow to solve operational or logistical challenges that may arise.
We greatly appreciate our partnership throughout the years with all of the dealerships and remain committed to your continued growth. With this being said, we will do everything we can to support you and your business through these difficult months.
Today, online sale is the only way to retain existing customers and win new business during such an unscheduled downtime. At Autoxloo, we provide our clients with auto dealer software to navigate any market environment which helped us to rank as one of the highest customer satisfaction DMS providers in the industry. We can have your system moved and upgraded in less than two weeks. Please contact us and we will get you into the queue of implementation and training for your new system.