Dynamic Mobile Ads For Auto Dealers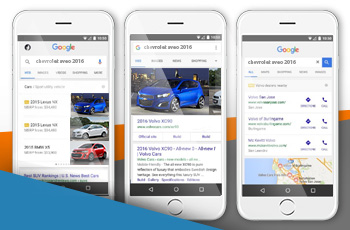 Looking for new solutions for your auto business? These days car dealers search for other, completely different ways, methods and answers to stand out of the crowd and to catch a bigger fish for their success. The choice is wide to any taste: SEO, marketplace platforms, aggregator sites, auctions, ads, etc. Google met the needs and wants of car dealer market and launched its newest mobile automotive ads for the Internet audience.
From now car dealers can be happy and content as users swipe through their inventory images and can see them as if they are in a showroom. Car interior and exterior photos in automotive ad format have additional information about the model, make, location, mileage and features. As the Internet search is mobile-based now every dealer must have the ads displayed on mobile devices. Statistics shows that people's engagement via vehicle swiping through and clicking on mobiles goes up and the searches for pictures are higher compared to previous years. So auto dealerships start to partner with Internet-related companies and invest in latest ad formats like dynamic mobile ads that involve customers and help them make a choice. The secret is that dressy-for-eye mobile ads not only attract customers' attention, but also convert more than text ones.
Last updated mobile automotive ads can be found in two formats: Model Automotive and Dealer Automotive. Model Automotive ads are good for vehicle make and model searches. They are large-formatted, possess different kind of information like dealerships nearby, car performance details, links to manufacturers' sites, etc. Dealer Automotive ads provide the searchers with dealership locations, directions and a click-to-call button. They are top-positioned in mobile search result page. Dealer ads go together with Model ads so you can click on "Dealers" button in Model Automotive ad and find all the necessary information about directions and phone numbers of local dealerships. Model and Dealer ads are very effective and bring a colossal impact and reaction as search queries for "dealerships near me" have increased with concern in directions and phone numbers.
So what benefits can mobile automotive ads bring to car dealers compared to text-based ads?
You can influence your vehicle ad to rank within the list and to up the engagement. You can influence how your vehicle ad is displayed. So provide Manufacturer's Suggested Retail Price and an image. Clicks on automotive ads are charged on cost per click basis and are ranked on bid and quality. Automotive ads can cooperate with standard text-based ads that can be shown below the unit. You can have a better impact on the users who just explore the car market. You can increase a mobile purchase process as automotive ads have a mobile optimization. By swiping through the car images users easily go from exploring to researching and from researching to finding dealers. You don't need to create a new ad. Simply add relevant keywords.
Mobile automotive ads have already proved their efficiency and potential. As time alters the ways how people research, hunt and purchase vehicles take the advantage of its new opportunities and let users see all your virtues. Autoxloo is a team of certified specialists on Google services awarded with Google Ads Individual Qualification certificate. We set up such ad campaigns for authorized or franchised dealers so they can surely take the best from Google. Start Mobile Ads Campaign with us and enjoy a new format of your ads!