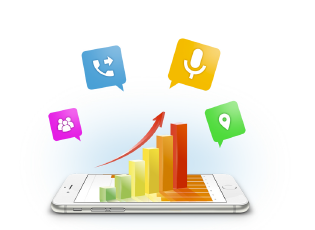 Take greater control of your business and optimize your dealership's work with Autoxloo's real time call tracking solution. Make better informed decisions, evaluate the effectiveness of your dealers and deliver real time business intelligence on internal systems and processes.
Every phone call or SMS is an important opportunity to connect with the client. Call Tracking helps you keep your leads organized and accurate.  Caller ID feature which will give you detailed data about every incoming lead. None lead's call now is unnoticeable or undefined. Call tracking software records information about your telephone calls:
Number of a caller;
Geographical location of the customer;
Time distribution of incoming calls;
Secure call recording.
Moreover, you don't need enter manually lead information into your CRM. Keep your lead management efficient. Save time by automating Call Tracking into CRM. Eliminate the risk of possible error and make sure your records are precise and complete. The whole call history of the lead can be found on the lead's details page.
With Call Tracking you'll learn more about how prospects are responding and interacting with your company. Stay one step ahead of your competitors. Have greater impact of your business process. Call us now!