Be as Mobile as Your Customers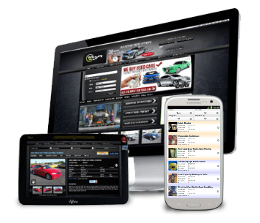 Per recent research by the time we hit 2015, 65% of the population of the United States will have a smartphone or a tablet.  That is over 200 million people.  More than 296 smartphones were delivered to customers last year.  This year, the industry expects over 460 million smartphones to be delivered world-wide.
In an environment where most people own and operate smartphones, doesn't it make sense to make use of dealer software solutions that offer solid mobile access to customers?   Keep your dealership directly connected to your customers with mobile-enabled website solutions.
When developing a mobile site for your customers it needs to have a certain number of criteria to be successful:
Informative – easy to access information that covers all of the basics at your customers' fingertips.  Information needs to be clear and thorough yet still load in a swift and efficient manner.
Easy to use – anything too complicated and customers will go elsewhere.  Giving your customers a good way to contact you, such as a click through contact section is a great way to let your customers call you direct if there's a vehicle they're interested in.
Fast – if customers have to wait too long for a site to load they will move on.  You want to be certain that your application works smoothly and that any photos or videos load swiftly.
Investing yourself into your online dealership website can really help you move more inventory.  The real key to success is paying attention to how smoothly the online site works.  AutoXLoo offers solid dealer software solutions when it comes to mobile-enabled websites that will help keep you connected to your customers regardless of if they are at their own homes or if they're on the move.
Don't miss out on this growing niche of the automobile customer pool.  Develop your mobile dealer website using some of the best dealer software available.