5 Steps To Implement Content Marketing Strategy For Auto Dealerships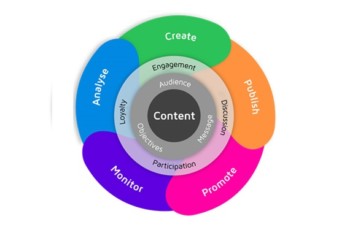 Content Marketing as was discussed in our previous articles is a very popular trend today, a powerful and useful tool for your dealer website efficiency. Content production has become a real mass product so that it turned into the whole industry with its leaders and outsiders. Website content today is as real as a smartphone in your hand or a new Volkswagen in your showroom. The content industry can name a lot of companies that drive these marketing trends and make them usually not worse than Apple makes its gadgets. Would you like to be among those companies? Would you like to succeed in your content marketing strategy and thus to push your business to the next level? If yes, you need a plan to make your content stand out from the crowd regardless of the resources you provide for your audience right now.
Here are some steps you can implement into your content marketing strategy to enhance your dealer business:
Set up the goals for your strategy. You should know for sure what exactly you need for your dealer business. It can be supporting the customer's loyalty by extending your content coverage, attracting new leads, providing customers with the content that can answer all their questions and work out their doubts or providing after-sales service.

Get to know your audience. Your content will work properly if it catches the eye of the targeted user. So always think of the end user. Why does this person need your information? What does it motivate to? Create a full portrait of your customer and customer's behavior in social networks. It will help you think and predict people's reaction one step ahead.

Generate your content. You should always be in trend! Write news, start blogging, share useful information on your website, post reviews about your vehicles, make test drive videos, provide infographics and different helpful tips. To make your content look more attractive and catchy follow these simple hints:

Implement your brand. Add personification to your content and help the user get connected to your brand. For this use your brand colors, easily readable fonts, associated sounds or audio, and visual prompts.

Define what your audience looks for. Remember that the content itself should not be the information about your dealership. It should be related to your target audience and the solutions they look for. So provide the data about your vehicles. Answer the questions about the prospects, relations with customers and public opinion. Show your style.

Tell about your dealership. People will surely be pleased to know that they are driving a winner of the year, for example. Thus tell your dealership's history, show the value of your inventory, and people who present your business. Customers will trust a person more, than a brand. Especially if this brand is not well-known in wide circles. Do not forget to mention your brand together with the name of your representative, for example Peter Green from MotorGroup.

Use different content formats. The audience takes the information in many ways. To make it absorbed use the text, add eye-catching photos and infographics, put your vehicles on the film, voice your content and make presentations.

Build the content calendar. Make a calendar to plan the content creation and publication on the regular basis. Choose such topics for your content that will be both interesting for your audience and helpful to promote your own brand. Each time while preparing a new material, ask yourself: "How can my company solve the problem described here?" Try to answer all the questions your readers ask. Find out the main problems that your customers face, ask them what they can't cope with and give them good pieces of advice in the form of the good content.

Make your content appealing for potential customers. Useful information is necessary, but not sufficient to convert the readers into buyers. Watch out bad grammar and bad spelling, use catchy headlines, add attention "magnets", divide your data into plain and simple parts, and use design elements to guide your readers through the content.

Optimize your content for the search engines. You can have the best content in the world, but it will be all for nothing if no one can find it. To prevent this include the keywords which your audience uses, add links to both your own website and external resources.

Involve the users. Your own website is a rich field for improving the content marketing strategy. You can try User Generated Content (UGC) which is any kind of content created by users. Encourage your customers to make and share videos, photos, posts, comments, tweets, discussions, ads, audio files, etc. about your content and vehicles. Offer the authors good bonuses, discounts, gifts and other benefits. People like to learn about other people, their experiences, failures and successes so provide such stories "with a human face".

Share your content. Use any possibility to distribute your information. Post it to different social networks, blogs, forums, discussions, posts, podcasts, etc. Involve Mass Mail service as well. The more engagement you have, the more kickbacks your website gets. You can give some valuable information to outsource. It's a very popular and effective content promoting policy because external resources cover much bigger number of users than your own website.
By using these solutions in your content marketing strategy you can make your message to the audience stronger, better and more effective. Quality content will help you increase the user engagement at different stages of the sales funnel and level up conversion rate. Autoxloo is ready to help you with your content marketing strategy and SEO techniques. Using our tools you are able to add any kind of content, create news blog, post video files to your website and to YouTube channel simultaneously, etc. We create, change and develop the things that wheel the dealer business ahead.