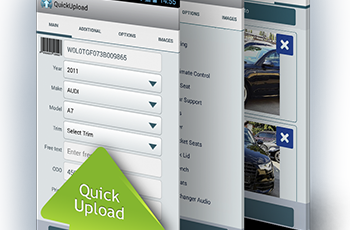 Take a look at our application Quick Upload, which allows you to load vehicles to your  dealer website incredibly easy and absolutely FREE.  Once you have a QU installed on your smartphone, you are ready to load vehicles. Doing so is very easy. Just visit our website, scan the QR code and its done.
Launch the car details within 5 minutes.  All your inventory is right here. There is no need to use some additional tools. Application management is extremely simple, convenient and intuitive. Software that saves your time!
Quick Upload gives your dealership quick and easy access to one of the most important part of your business, your vehicle inventory. Give your sales force what they need and require to enhance their sales performances.
Download Quick Upload right now to access your inventory of vehicles and accessories at any time of the day from any place that has access to the Internet.  If you're ready to push your inventory management to another level, contact us today and let's get started!