Mass Mail Strategy For Car Dealers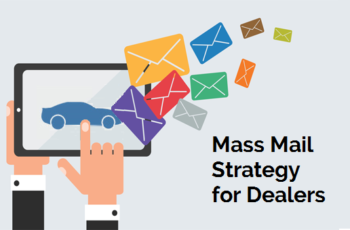 In today's business Mass Mail is very important. Your sales can be one vehicle a month or several cars a day, it's up to you. But the reason why you succeed or fail can lie in email newsletters, whether you send them to your customers or don't. Mass Mail strategy is very effective when you make some basic steps such as choosing a reliable mailing service, adapting the content for mobile screen reading, writing catchy texts, collecting a sufficient number of potential and existing customers' addresses and segmenting your audience. But sometimes it's not enough because your competitors do the similar things. So you can't surprise your readers with anything new and interesting. Here are some witty tips which will make your mailing live, bright and commercially successful.
Show your care to the customers
Your subscribers receive dozens of emails per day. They are unlikely to pay attention to every offer calling to download something for free or to take advantage of a 3% discount. Surely they will ignore the questions like "Would you like to start a dealer business with no effort or initial investment?" An advertising noise makes people go deaf to marketing messages. Another thing is if you show your care to the customer. You can use some of these ideas:
Inform that a special offer terminates in 24 hours. Perhaps the customer forgot that he/she wanted to buy Alfa Romeo 4C Spider at a good discount in your dealership.
Explain why it is important to use your vehicle.
Give some valuable information to your subscribers. For example, imagine how many men will thank you if you suggest Kia Optima Hybrid as a gift idea for their beloved ones on their birthdays.
Pay attention to the email header. It should inform the subscribers that you have something "juicy" for them.
Use social proof
Remember that different reviews, research results, news, case studies, awards, ratings, and other stuff are your best friends. Always. Make your friendship closer and invite them in your newsletters.
Ask for a feedback
The success of the effective feedback hunting is in personalization. You should address to your client personally. E-mail personalization increases the overall efficiency of your newsletters and multiplies the chances to get a real positive review. So write on behalf of a real person, but not a brand and make sure that the message you are sending is relevant for this particular user. Ask the recipient to explain his/her choice, to leave a feedback or to help you make a research. Some companies provide bonus money to the authors who left the first reviews, propose to pass a test or to answer the questions, and encourage the subscribers to ask something.
Create a community for exclusive clients
Allow your subscribers to feel the chosen ones. Invite them to sign up for exclusive newsletters sent to the best customers. You can assign the special clients to be regular shoppers, consumers with a certain check amount, the owners of a particular car make or model, etc. Offer the membership in your community in personal emails. Ask the clients to confirm their participation. Include discount coupons, promotional gifts, favorable offers, etc. in your newsletters. Word-of-mouth marketing will do such membership desirable for all your customers. You can give the community members a small cash bonus. It's a winning trick when all companies provide discounts.
Always think about conversion
Effective emails ensure high click ratios through the links and converse subscribers to consumers. You can use newsletters design to achieve a better conversion rate. For example, locate a conversion button above the message. "See The Best October Vehicles" block placed above the text will surely attract the reader's attention. But what will happen if the client is not interested in your proposal? You can provide an alternative to a user. If a subscriber doesn't like any of Mercedes-Benz E-Class, Porsche or Audi models, offer to click "See Other Promotional Vehicles" button.
Tell your readers their next steps
Do it with the calls to action. They significantly increase CTR and mailing conversion. "Click the link and learn more" is a simple but very effective phrase to convert. You can use more aggressive call to action techniques like "Save Your Journey Time, Try McLaren Test Drive!" Use the urgency factor. Such words as "free" and "no registration" come in handy.
Impress with useful information
Regularly surprise your readers with large emails full of extremely useful information. Do it once every two weeks or once a month. Thus you will train your subscribers to wait for your messages and to pay attention to them. Remember that you shouldn't make every email huge. For example, you can send standard messages twice a week and create a big digest of the website publications or your inventory assortment once a month.
Arouse the curiosity
The readers should understand the point of your message after reading its subject. On the other hand, you should intrigue your audience and make it do all the necessary actions out of curiosity. "Anticrisis Cars And the Most Beautiful Girls of Memphis" – such header will surely stimulate the subscriber to open the email. You can make an intrigue for your readers telling about the unprecedented popularity growth of your car ad video. You can promise a gift without saying what it is. Will anyone refuse to open a message and to learn more?
Remind your audience who you are and what you do
As your customers receive lots of newsletters from similar companies every day they may not remember you. You should stand out from the crowd and become eye-catching, nameable and recognizable. Remind the users who you are and how you can help them. Include the reminder in each of your emails. You can make a detailed advertising cheat note to inform about your company and to promote it simultaneously.
Take advantage of your partners' brand awareness
If you have just opened your car dealership, naturally, the audience does not know you and your brand name. But everybody knows such dealership brands as Dodge, Subaru, Mercedes-Benz, Lexus, Jaguar, Land Rover, etc. Use them in your newsletters to speed up your own authority.
Send the ads
Users don't like to read advertising newsletters. You can solve this problem by making the commercial messages similar to the neutral ads. For example, let your readers know that you have new vehicles for sale, the prices are lowered, and the delivery terms are updated. You can regularly send neutral emails about new cars available or inform a subscriber that there are newly arrived vehicles for sale which he/she used to be interested in. Notify your readers about all changes you have.
Make the mailing process a game
Gamification gently stimulates sales. So use it in your newsletters. For example, you can offer the users bonus stars which give them a right to get discounts. You can cover up your bonuses with points, hearts, coins, diamonds, etc. Gamify serious offers and deals. The results will surprise you to the upside.
Say "thank you" thousand times
Use every chance to say "thank you" to your readers. Thank the users for their purchases, for reading emails, for leaving a review and so on. Thanking is a big trick actually. It has a positive effect on your subscribers and forms loyalty quickly and effectively. Some companies thank their users even for adding items to the carts. You can go beyond a simple gratitude in words and provide some bonuses.
Make people happy
You can make your subscribers happy and content very easily. It's enough to give them a gift. The main thing is not to make people think it as a market-speak.
You should increase the newsletters quality step-by-step following a few tips a week. Autoxloo can help you in your Mass Mail strategy. By using our Campaign Wizard tool you can send your newsletters to the customers easily, without an effort or strain. Our CRM system allows you to create email templates in Template Builder and to send mass emails to thousands of users. You can manage your Mass Mail system yourself. Thus you will notice positive results very soon: the increase in figures of open newsletters, CTR and conversion rate. Join us and try more!