Important Social Media Statistics For Auto Dealers. Updated for 2019
Since 2016 when the original version of this post was published, social media has grown into an even more powerful influencer when it comes to shoppers deciding on which vehicle to buy.
Many things have happened during the last 3 years in the realm of social media, and not all of them were good things. For example, Mark Zuckerberg's reputation has definitely seen better days, but nevertheless, Facebook still remains the most popular social media platform in the world.
People may complain about Facebook, Twitter, Instagram or other platforms, but statistics show that customers still undoubtedly (and often even unintentionally) incorporate those touch points into their purchase journey.
As for automotive shoppers, they buy vehicles from dealerships that they trust and salespeople they like, right? That's why they use social media to create lists of the pros and cons before making a big decision.
We have updated the stats for 2019 to demonstrate that 3 years since the original post was published, social media for car dealers is still going strong and remains a crucial element for a successful digital marketing strategy.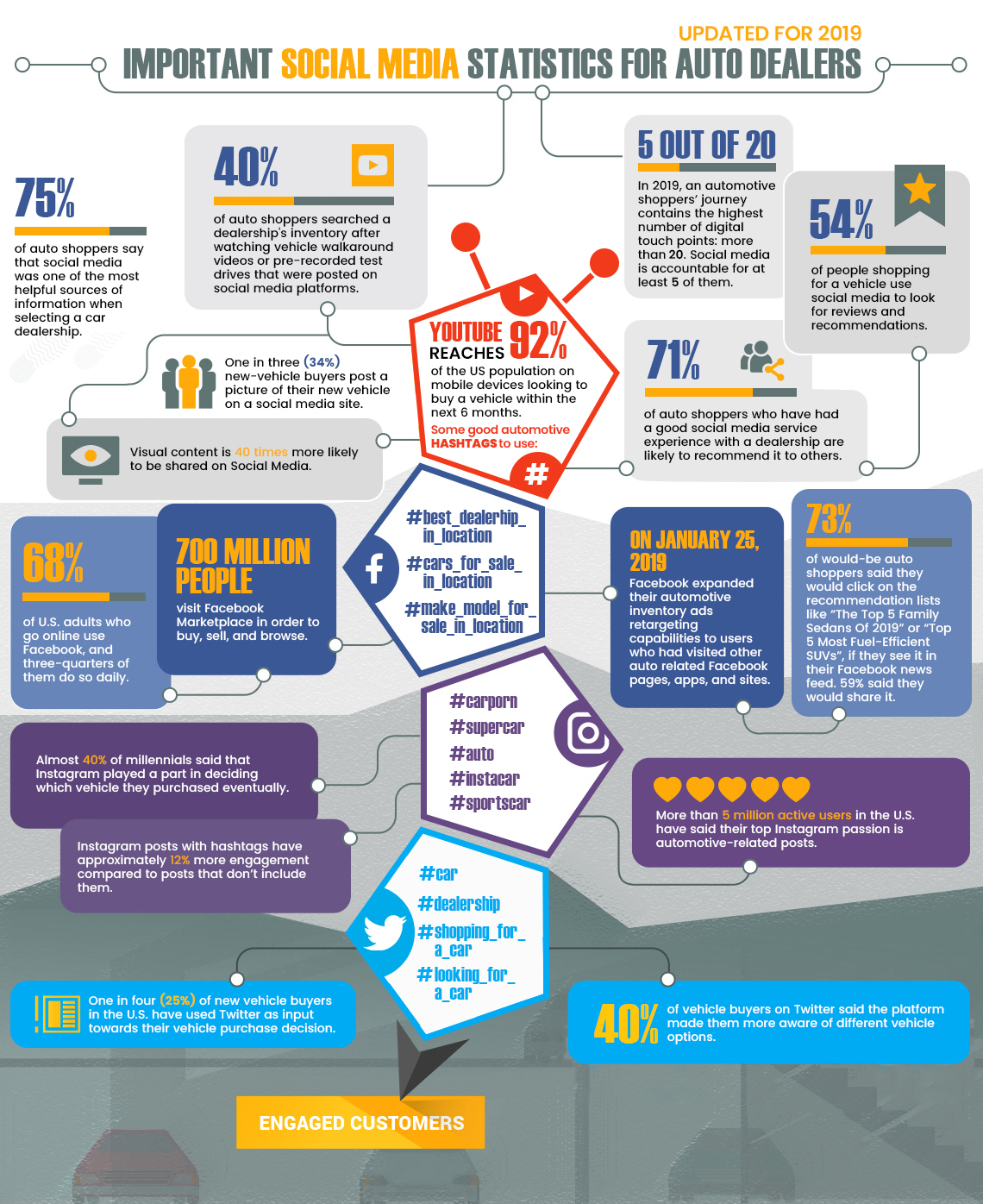 There are 3.48 billion social media users so far in 2019, with the worldwide total having increased by 288 million (9 percent) since this time last year. Such an enormous reach allows car dealers to connect and engage with early stage car buyer prospects, collect valuable customer feedback that can help them to improve the overall experience they provide, and make important business decisions based on this feedback.
Since we are already managing social media accounts for car dealers, we clearly see the results of our work: A dealership that has active social media accounts experiences an increase in sales and in their customer base. If you want the same results for your dealership, contact us today.
Please include attribution to Autoxloo.com with this graphic.