Google Posts for Auto Dealers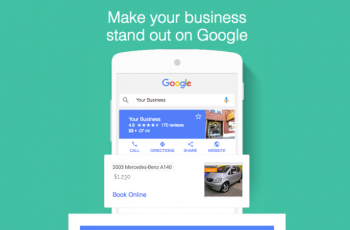 Every day millions of people use Google to search for a huge amount of local information. Google creates new features that will help its team hear from everyone directly. For this purpose it was necessary to simplify the plan of actions for Google searchers. So on June 22, 2017 Google launched a new Posts service.
From now on small businesses, verified individuals and big organizations can work with text, images and links directly in Google if they have Google My Business accounts. The content creation is promising to be quick and easy now. The posts created in Google Posts service will instantly appear in the search results and will include the company's or author's name. Besides, each post can be shared in popular social networks. SEO confirm that it works. If a company has its own Google Posts it gains popularity in the search engine results and also gets a special widget.
How can Google Posts help dealers develop their online businesses? The content / reviews delivered by Posts will appear in the Knowledge Panel. If its quality is high it will lead to company's high ratings in the search. Besides, you will have the following benefits:
The posts created in the new service need to be up to 1500 characters long. Google recommends to use 150 – 300 characters. That's enough to advertise the inventory and services you deliver to your audience. Customers' reviews can be full and detailed as well. For events you can write the Title of 58 characters.
Only the first 300 characters will be displayed in the Knowledge Graph. You have a possibility to message really important and valuable information or slogan to your users. No long descriptions and praises. Everything is clear, brief and laconic.
In mobile version the first 100 characters of the post will be marked and shown above the address. Mobile users will notice you for sure.
You can add a call to action link to your text. You have a choice from the given list of variants: Learn More, Sign up, Buy, Reserve and Get offer. In the future you will get more alternatives.
The posts have a limitation in life period. Within 7 days they will be visible in the Knowledge Panel. You can update your content, describe new features, inventory, conditions, and opportunities more often. You can surprise your customers more.
You have a possibility to create posts as events. They will be displayed within the event timespan. It's a very convenient ad format to gather a big crowd of people.
Google Posts is aimed at developing local businesses. You have a good chance to increase your positions and ratings in the local search.
Posts tab was added to the Knowledge Panel in mobile interface. Users can view your older posts by clicking this tab.
Searchers can share your posts and customers' reviews about your dealership via Facebook, Twitter, Google+ and email. Links to the posts will be available in the search as well.
The new service allows you to attach a picture to your posts. Videos and animated GIFs are not provided so far. A recommended image size is 750 x 750 pixels. The service crops the pictures automatically, but you can select the area to be displayed in the posts.
Autoxloo leaves all competitors behind. We are ready to post new inventory for dealers in Google Posts. If you have any questions please contact us