Go Live with Live Video Streaming™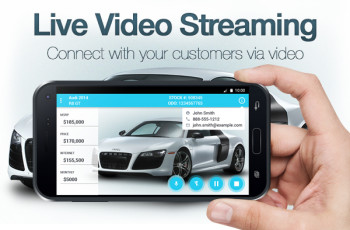 We all know people's love to videos. Video is the world's engaging medium. If you don't use the best way to appeal to clients,there will be a lapse in your dealership.  That is why Autoxloo created our new extremely helpful feature Live Video Streaming™ (LVS™ ).
With Live Video Streaming™ your dealership will be able to deliver live video of your vehicle inventory directly to your target audience. Customers will have an opportunity to take a look at a specific car without even physically visiting your showroom!
When the customer is interested in the car, he will just fill in LVS™ form and indicate the time when he wants to review the car video. The best part, no one has to wait. It can be the same very moment after form submitting or hours later, the only condition is your dealership's hours of work. The customer as well as one of your salesman will receive notification. As soon as your customer press the link, you are on! Broadcasting to live audience.
Make easier for consumers to recognize your dealership particular brand. Create deeper relationships with your clients through the power of video. Go live and interact with viewers in real-time or record and save for on-demand viewing. Share your dealership's vehicles wherever and whenever the need arise. Attract "non local" buyers by making your video discoverable to new viewers.
Create solid Lead Conversion with LVS™ . Understand your audience with broadcast monitoring and deep analytics. Capture data and generate reports with our powerful and easy to use tool.
Moreover, you and your customers are longer confined to desktop computers. Our LVS™ feature is available via our iOS and Android apps, and works on all devices. Stay in touch 24/7.
Live Video Streaming™ is the right tool that can help your dealership bring more traffic to your dealer website, enable employees and boost productivity, create high quality communication channel with your customers.