e-Magazines Offer The Best Of Both Worlds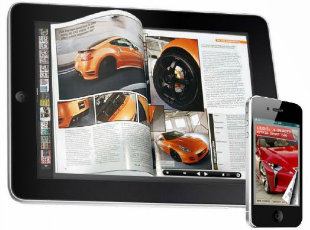 Traditional print-based marketing simply can't compete with digital search features available to consumers today. Unfortunately many large scale magazine productions can take days or weeks to deliver current up-to-date inventory / information to your potential buyers.
That is why Autoxloo created the "e-Magazine" in order to combine the familiar user experience of flipping through a printed magazine with efficiency and cost effectiveness of digital distribution.  Our e-Magazines are updated dynamically as new inventory is added to ensure your customers have access to the latest vehicles going at your dealership. With no print, distribution or postage cost your customers can have their e-Magazine delivered right to their email, free for you and instantly for them.
These e-Magazines behave like a normal hard copy, and can be viewed on any computer, tablet or smartphone.
e-Magazine advantages
Control the look, feel, content and layout of your e-Magazine.
Create custom pages for promotions, events, calendars etc.
Tremendous savings on print, distribution and postage costs.
Reengage your print customers to increased sales.
Realistic 3D page turning shows only "your" dealer's inventory.
Negotiate lower print cost with your print publications.
Print it, save it to flash drive or email it to increase your sales.
Let's get started today creating your own e-Magazine that will showcase ONLY your vehicles, promotions and calendar of events. Contact us now.