Digital Magazine Software for Dealers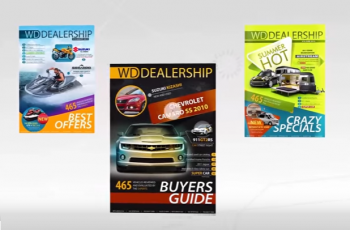 Visibility is the key factor in a sales funnel which can either start the purchasing process or you can end up being overlooked. You can increase your vehicle inventory views in many ways: advertising campaigns, classified posting, social networks, aggregator websites, online auctions, etc., but all these sources depend on an Internet connection. Users can't browse and see your inventory offline. If you want to be in touch with your target audience anywhere and anytime, try to use digital magazine software or also known as e-magazines.
E-magazine is a powerful marketing tool that will not only enhance the visibility of your inventory, but will also increase your brand awareness. It is an electronic brochure which illustrates your vehicles, prices, special offers, bonuses, discounts, etc. You can send e-magazine releases in personal emails, newsletters and mass mails or post them on your web pages and in social networks. By any means distributing your content and promoting your dealership will prove to be very effective.
By using E-magazine as a part of your marketing strategy you will have the following benefits:
A wide distribution of your content. Your vehicle inventory can get more eyeballs and therefore more potential customers than ever before.
Compact and portable. E-magazines can be stored and carried on electronic, optical and other storage media devices without taking up much space.
User-friendliness. Electronic magazines are quickly and easily adjustable to any size for convenient reading.
Free distribution for both a sender and a recipient. You don't need to worry about any extra expenses. Customers can also read them absolutely for free.
No boundaries. You can send electronic magazines anywhere and anytime.
An immediate delivery. To get printed newspapers or magazines your readers need to go to the store or wait until they come in the mail. E-magazines save your customers any additional efforts or costs.
Less time on releases compared to the printed periodicals. Traditionally it takes a week to release an electronic magazine versus several months to prepare a paper copy for publication.
Printing, sending, sharing, etc. E-magazines allow your readers to do all of this without much effort. A few digital pages can usually be more effective than a pile of paper.
Offline reading. Users can download your e-magazine to a PC or any mobile device and look through it even if they're offline.
Environmentally friendly E-magazines don't require any trees for their production. They are 100% eco-friendly.
A strong competitor. Not every dealership has the courage to issue periodicals because they are time-sapping and require some of their resources. Stand out from the crowd, show your customers and competitors your real potential and good results.
Autoxloo offers dealerships professional services for the creation of unique, individual and business effective E-magazines. You have an opportunity to promote your brand with outstanding and up-to-date designs for your inventory.