Manage Your Truck Dealer Website with Autoxloo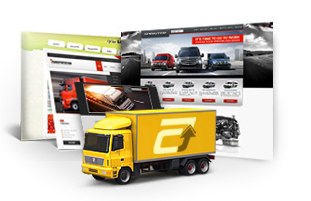 Brace yourself Truck Dealerships – here comes something big! Now we are cooperating with you too! We give everyone the data and information needed to make smart, empowered decisions.
Autoxloo designed websites for commercial trucks (new and used) to make your dealership run smoothly. But not only truck dealer websites can take advantages from working with Autoxloo. Dealers who offer vans, trailers, tractors, RVs (Recreational Vehicle), cycles, ATVs (All Terrain Vehicle), marine vehicles and planes, construction or agricultural equipment and much more, with our tools and software we help to keep your dealerships in gear.
We are all about making dealership business experience easier, faster and more convenient. Autoxloo provides you with the features you need to drive up your dealership productivity. All trucks' peculiarity is taking into consideration.  Find the best layout for your trucks, vans, trailers etc with our Make-a-page. With hundreds of design options to choose from, you can customize your dealer website to fit your style. We offer you to manage Inventory from DMS for the proper presentation of vehicles. Finding all answers on one page, saves your time greatly.
With lots of forms and applications we offer your truck website will provide consumers with the information that they are searching for. Help your customers to find all your dump, tank, low boy and horse trailers, tractors, excavators and buses. A satisfied customer represents generations of sales opportunities.
Contact Autoxloo to provide you with the best service available.